VIDEO Stolen Essex Dog Reunited
14 August 2015, 19:45 | Updated: 15 August 2015, 20:27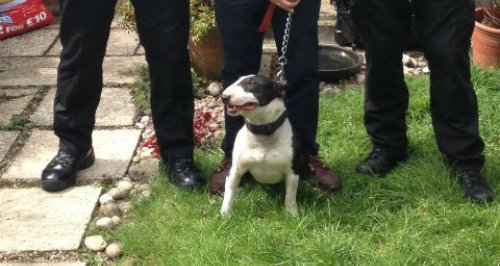 Essex police have released a video of a much loved dog from Buckhurst Hill being reunited with his owners.
Monty, a black and white miniature English Bull Terrier, was reported as missing back in March.

His owner Martin Kelly was devastated - especially as Monty spotted a tumour in Mr Kelly's neck before Mr Kelly did.

Mr Kelly said at the time: "When Monty got up onto the sofa for a cuddle, he kept nuzzling into my neck, licking one spot on the right side. I thought perhaps it was something to do with sweat on my skin, but he kept on doing it.

"I went to the doctors for something unrelated and asked her about it afterwards. By then, a small lump had appeared and I thought he may have passed on some germs where he kept licking me.

"The doctor told me to get my wife and go to Whipps Cross, where they told me it could be cancer. I had a biopsy and was diagnosed with throat cancer. If it wasn't for him I wouldn't have known it was there.

"My family and Monty have got me through treatment, and I've built up my strength taking him out for his walks".
But two Colchester officers spotted him inside a garden, and once they'd checked he was the missing dog - brought him home.
You can see what happened here: