Waltham Abbey Shooting Was A "Targeted Attack"
9 December 2015, 10:26 | Updated: 9 December 2015, 10:29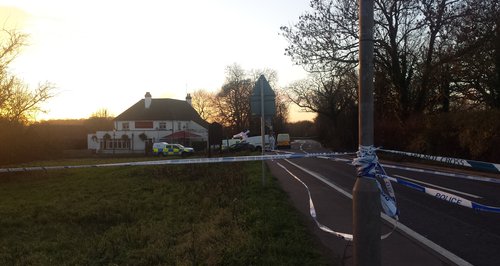 Police investigating the murder of a man shot in the car park of a hotel in Waltham Abbey say they believe it was a "targeted attack".
Police were called to reports of shots being fired at the Marriott Hotel on Old Shire Lane at around 9.45am yesterday (Tuesday, 8 December).

A man in his 30s was the target.

DCI Marina Ericson, leading the murder enquiry, said: "This appears to be a targeted attack and the motive was directed towards the victim.

"The assailant appears to have been waiting for the victim in the car park at the Marriott Hotel.

"The victim was shot at and a chase ensued on foot during which the victim flagged down a vehicle belonging to a member of the public before being driven to the Volunteer Pub.

"The suspect got back in to a dark coloured car being driven by an accomplice which made off".

Essex Police says forensic examinations are continuing and crime scene investigators are working with a ballistics experts.

The Marriott Hotel and the Volunteer pub are returning to normal business today, while the slip roads at Junction 26 of the M25 will re-open shortly.

The only road closure that will remain will be Honey Lane where it runs under the motorway between two roundabouts.

A post-mortem examination on the victim's body is taking place today. Family liaison officers have been in contact with his family and are supporting them at this difficult time.

Any witnesses in the area of the Marriot in Old Shire Lane at around 9.45am who have not already contacted police are asked to call 101 and speak to detectives or call Crimestoppers on 0800 555 111.