Ware: Police Search For Man After Bank Robbery
12 March 2014, 00:00 | Updated: 12 March 2014, 05:34
Detectives investigating an attempted robbery in Ware are releasing an image of a man they wish to speak to as part of the investigation.
Police were called to Lloyds bank in Ware High Street at around 12.30pm Thursday 6 March.
A man reportedly approached staff in the building and made demands for money.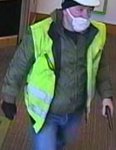 No one was hurt in the incident and no money was taken.
The offender was holding what was believed to be a pistol.