Weekend Rail Engineering Work Begins Today
21 January 2018, 06:51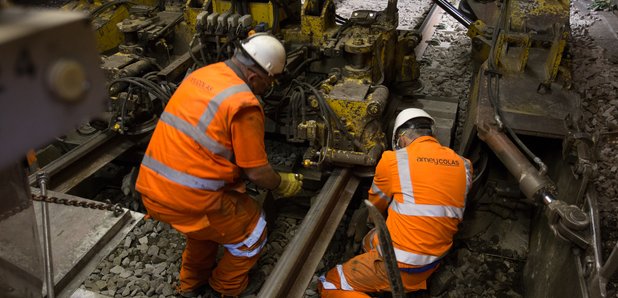 Nine weekends of rail replacement work on the line into London begin today.
Important upgrades for the Crossrail programme and work to install new overhead wire between Essex and London need to be done.
At weekends from the end of January to April 2018, nearly 8km of new overhead wire will be installed between Ilford and Manor Park, along with structures to carry the wire as part of a £250m project to install a new overhead wiring system that automatically adapts to temperature changes. This follows on from the work to install 10km of overhead wire at Ilford at Christmas and will result in fewer delays to journeys between Norwich and London.
Work also continues on the Crossrail programme to upgrade the mainline and stations between Brentwood and London Liverpool Street in preparation for the opening of the eastern section of the Elizabeth line at the end of 2018. When fully open in 2019, the Elizabeth line will increase central London's rail capacity by 10% and bring 1.5 million extra people within 45 minutes of central London. Passengers will be able to travel to parts of the City, West End and west London without the need to change trains and will also benefit from improved links to Heathrow Airport.
These improvements will last for decades to come and help to provide a much more reliable service to the growing numbers of passengers using the busy mainline.
Meliha Duymaz, Network Rail's route managing director for Anglia, said: "This work is crucial to improving rail travel in the East Anglia region, to provide more reliable services and improved connections across London. The number of people travelling by rail continues to grow and this investment programme forms a key part of our Railway Upgrade Plan to support this demand. I'd like to thank passengers for their patience while we carry out this work."
Jamie Burles, Greater Anglia managing director, said: "This work is vital for the modernisation of the railway in East Anglia, which both Network Rail and Greater Anglia, are committed to in order to provide a railway fit for future generations. We appreciate that engineering work is inconvenient to customers who would rather stay on the train for the whole of their journey. I would like to reassure people that we will make sure they can still complete their journeys, even if part of it is by bus."
Passengers travelling at weekends from Sunday 21 January to 25 March are urged to check before they travel as rail replacement services will run from either Witham or Ingatestone to Newbury Park where passengers can pick up the central line. The closures also affect passengers travelling from Southend and Southminster. Passengers can check how their journey will be affected at www.nationalrail.co.uk or with their train operator ahead of travelling.