Airport Collapse: 'My World Fell Apart'
2 October 2018, 16:24 | Updated: 3 October 2018, 08:48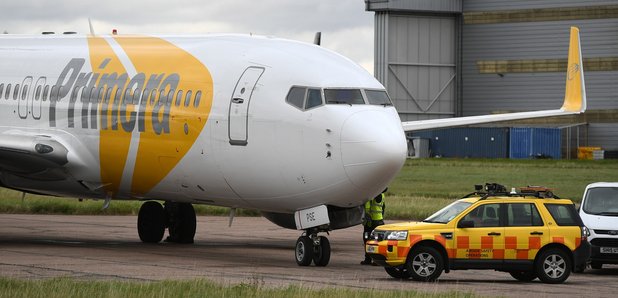 A senior member of cabin crew, an employee of Primera Air has described how his "world has fallen apart" since the airline entered administration.
Cabin crew have been left stranded and out of work by the sudden collapse of the Danish business on Monday, bringing to an end 14 years of operations.
Former senior cabin crew member Dylan Brock said:
"It feels like our world has fallen apart."
He described the confusion as news of the company's impending closure spread over social media.
The 35 year-old said:
"I thought it was probably that a crew member had seen something and jumped to conclusions."
He said he was angry when he saw the official notice of the closure, adding:
"When I found out, I must admit a few choice words did come out which were not from my usual vocabulary."
Mr Brock, was one of the first to join the airline's Stansted base when it opened in February, and said the surprise collapse has left its employees feeling "at a loss".
He said he had taken a risk to join Primera Air, adding:
"I had a fantastic career with Virgin Trains but I gave it all up because I saw an adventure I wanted to be part of. I knew it was a risk, but it's a risk when you do anything."
He added he wanted to be part of what he saw as "a growing family".
He said a number of his colleagues had also worked for Monarch, the British budget airline that collapsed in October last year, and have found themselves "distraught" and in disbelief at being in the same situation a year later.
"I've got colleagues who are ex-Monarch and it's almost a year to the day since Monarch collapsed. One of the women I used to work with is distraught and can't believe it. She lost her job with Monarch a year ago."
In a statement, Primera Air said it had timed the end of its operations to minimise the impact on passengers.
However, Mr Brock said that for staff, the timing could not have been worse, and it may be a struggle to find work with another airline.
He said:
"It's October so no other airlines are looking for crew and I'll be lucky if I can start working again by February or March next year.
All we can do is wait and see. Everyone has to scramble to at least find a job. Even if it means I'm going to have to go and stack shelves at Tesco."
Pic: A Primera Air jet impounded at Stansted airport today (2nd October)