WWII Pilot Reunited With 1945 Plane At North Weald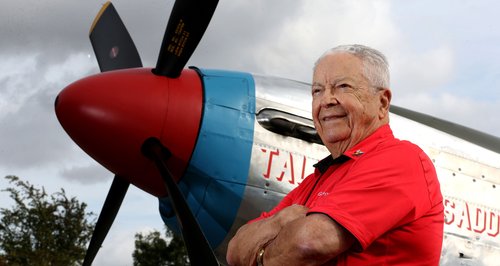 A Second World War pilot has been reunited with the plane he first flew as a 19-year-old in 1945.
Lieutenant Colonel George Hardy, now aged 91, served in the first group of African-American military pilots in the United States Air Force and flew the P51D Mustang in the final months of the conflict.

Based at Ramitelli airfield in Italy, Mr Hardy flew 21 missions in the plane, mostly escorting B-17 Flying Fortress bomber planes into Nazi Germany to protect them from the Luftwaffe.

Mr Hardy, who lives in Sarasota, Florida, was invited to the UK by Peter Teichman, chief pilot of the Hangar 11 Collection, which maintains Second World War fighter planes flown at air shows.

The collection is based at North Weald Airfield near Epping and Mr Teichman managed to contact Mr Hardy earlier this year through history groups.

The P51D Mustang which bears the serial number 44-72035 and the name Tall In The Saddle was bought by the collection in 2001.

Mr Hardy, speaking from the hangar at North Weald where the plane is now kept, said: "This is one of the most beautiful airplanes going.

"It was so easy to fly and so responsive, and at 19-years-old flying that airplane - you couldn't beat that.''
He flew his last mission in the plane on August 7 1945 but went on to fly other aircraft, completing 50 missions in Korea and 70 in Vietnam before pursuing a career in communications.

Mr Teichman said he hoped to take Mr Hardy up for a flight in Tall In The Saddle during his week-long visit to Essex.