V Festival: Then And Now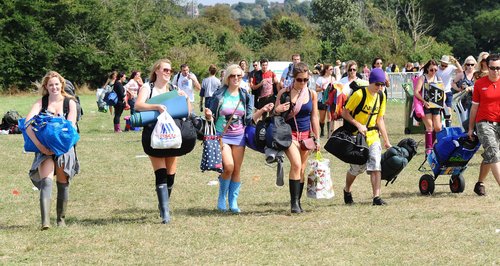 Can you believe it is two decades since V Festival first took place at Hylands Park in Chelmsford?
Much has changed since the early days - attendances have trebled, cameras are out and fake tan and smartphones are definitely in.
Here's our look at the some of things that have changed since the festival first arrived in Essex in 1996...
| | | |
| --- | --- | --- |
| Chelmsford V Festival In Numbers | 1996 | 2014 |
| Attendance | 60,000 | 180,000 |
| Number of artists | 35 | 100 |
| Stages | 3 | 5 |
| Dressing Rooms | 10 | 40 |
| Burgers and hot-dogs consumed | 35,000 | 25,000 |
| Aioli, truffle mac and cheese, rotisserie chicken consumed | 0 | 100,000 |
| Cameras handed in | 20 | 0 |
| Mobile phones handed in | 0 | 90 |
| Portaloo visits | 600,000 | 1,800,000 |
| Bottles of fake tan used | 0 | 1,000 |
| Tents slept in | 10,000 | 36,000 |
| Wellies found | 30 | 90 |