The Coca-Cola Christmas Truck Will Be Here Soon!
2 November 2017, 16:23 | Updated: 6 November 2017, 14:34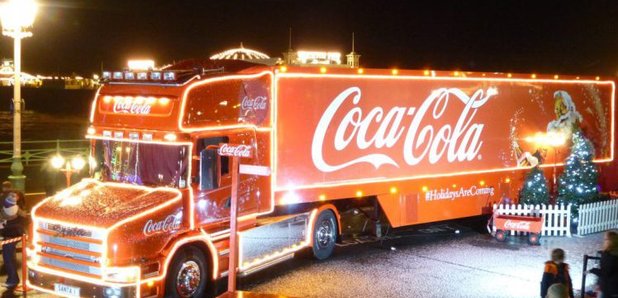 Find out when it will bring some festive magic to a town near you...
It's as traditional as the annual gripes about mince pies being sold too early in supermarkets. Yes, for many people the arrival of the Coca-Cola Christmas truck is a sign that the festive season is upon us. Hurrah!
Now in its seventh year, the truck tour will kick off again in Glasgow on Saturday 11th November. The truck will then travel around the UK spreading seasonal joy. It will call in at 42 locations nationwide in the build-up to Christmas, making its final stop in Lakeside, Essex, on Sunday 17th December.
At each stop this year, Coca-Cola lovers can snap and project their festive selfies across the side of the truck while enjoying a 150ml can of Coca-Cola Zero Sugar, Diet Coke or Coca-Cola Classic in a winter wonderland setting.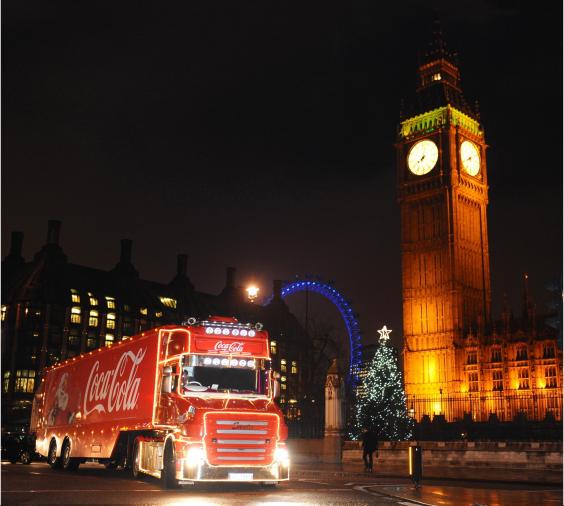 This year's scaffolding around Big Ben won't have quite the same magic.... [Picture: Coca-Cola]
The truck first appeared on TV screens in the drinks company's Christmas advert in 1995. This year's commercial, with its familiar 'Holidays are coming' jingle, will air for the first time on Sunday 17th November on Channel 4.
Want to know where you can have a slice of Christmas truck magic? Here are the dates you need:
The Coca-Cola Christmas truck tour 2017:
Glasgow, Silverburn Centre – 11th November
Glasgow, Asda Robroyston - 12th November
Newcastle, Asda Bolden Collery – 14th November
Newcastle, Tesco Extra – 15th November
Swansea, Tesco Extra - 16th November
Northumberland, Sanderson Arcade – 16th November
Northumberland, Sanderson Arcade – 17th November
Bristol, The Mall – 18th November
Newcastle, Intu Metrocentre – 18th November
Newcastle, Intu Metrocentre - 19th November
Cardiff, Queen Street – 19th November
Plymouth, Drake Circus Shopping Centre – 21st November
Bradford, Morrison's Victoria Street – 21st November
Pudsey, Asda – 22nd November
Gainsborough, Marshalls Yard – 23rd November
Bournemouth, The Triangle – 23rd November
Bournemouth, The Triangle – 24th November
Leeds, Whiterose Shopping Centre – 24th November
Hull, St Stephens Shopping Centre – 25th November
Southampton, Westway Shopping Centre – 25th November
Southampton, Westway Shopping Centre – 26th November
Doncaster, Lakeside Village – 26th November
Sheffield, Fox Valley – 28th November
Leyton, Asda – 28th November
Huddersfield, Mccaulay Street – 29th November
Southend-on-sea, Victoria Circus – 29th November
Bolton, Middlebrook Retail Park – 30th November
Harlow, Market Square – 30th November
St Helens, Tesco Extra – 1st December
Ipswich, Asda – 1st December
Peterborough, Serpentine Green – 2nd December
Manchester, Intu Trafford – 2nd December
Manchester, Intu Trafford – 3rd December
Mansfield, Tesco – 3rd December
Liverpool, Liverpool One – 5th December
Watford, Tesco – 6th December
Watford, Asda – 7th December
Telford, Telford Shopping Centre – 7th December
Wembley, London Designer Outlet – 8th December
Nottingham, Victoria Retail Park – 8th December
London, Greenwich – 9th December
London, Greenwich – 10th December
Birmingham, Edgbaston Street – 9th December
Birmingham, Edgbaston Street – 10th December
Coventry, Broadgate – 11th December
Reading, Riverside Shopping Centre -13th December
Rushden, Waitrose – 14th December
Milton Keynes, Xscape – 15th December
Essex, Lakeside – 16th December
Essex, Lakeside – 17th December