Skydive Buzz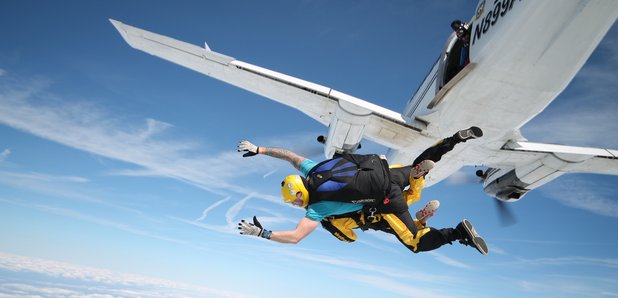 Ever wanted to take to the skies and be wowed by the stunning views from above? Then you will love Skydive Buzz!
Set in the heart of Devon, a clear day can see skydivers taking in views of the north and south coasts and miles of rolling countryside. It's even said that they have some of the best views of any skydiving centre in the UK.
So strap yourself up for an experience of a lifetime as with Skydive Buzz, you fly up to 15,000ft in just over 10 minutes in one of the fastest jump planes in Europe. Not only is that fast, but it's the highest you can go for any skydive in the UK.
Their team of instructors are fully qualified to keep you safe and will make sure you're comfortable and of course, excited, before you take the leap!

The adrenalin fuelled minute before your parachute opens is guaranteed to be a memorable one, and once you're out in the open you can relax as you ride and drift slowly back down to earth.
Once your feet are firmly back on the ground, you can head to their first class coffee bar and restaurant; The Aviator to toast your achievement before shouting about it to all of your friends and family.

Dunkeswell Airfield
, Nr Honiton
, Devon
, EX14 4LG