More than 400 knives handed in during police amnesty
3 October 2018, 16:59 | Updated: 3 October 2018, 17:02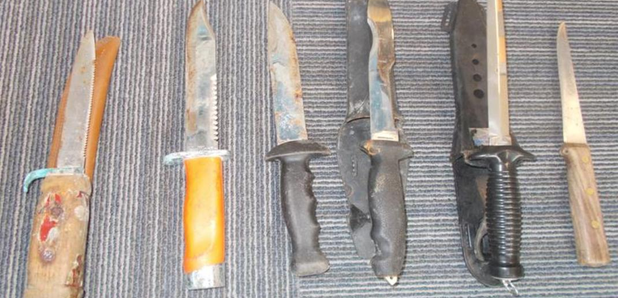 More than 400 knives and bladed items have been handed into Devon and Cornwall Police as part of an amnesty.
That include hunting knives, samurai-style swords, rapiers and sword sticks, along with an assortment of kitchen knives and cleavers and a starting pistol.
All will now be destroyed.
Superintendent Matt Lawler, Commander of the Exeter, East and Mid Devon policing area, said: ''We are pleased with the results, which are consistent with the number of items handed in during previous amnesties.
''One story that emerged was that of a mother who anonymously brought a lock knife into our Exeter police enquiry office. She explained that she had removed it from her son's bedroom as she was concerned that he was carrying it.
''As we have previously warned, it is often those that carry knives who end up injured by them if a confrontation takes place. This is therefore exactly the sort of reason why the knife amnesty was held in Devon and Cornwall, as part of our ongoing local approach to focussing upon prevention. Any knife taken out of circulation and off the street helps to prevent injuries and deaths.
''No good can come from carrying a knife. For your own safety and that of others, get rid of it.''
If anyone has any queries over bladed items or firearms and how to dispose of them, or is concerned about transporting them, please drop into one a police enquiry offices - find out more here.