Bradninch: Smoke Alarm Saves Devon Family
23 July 2013, 12:55 | Updated: 23 July 2013, 13:02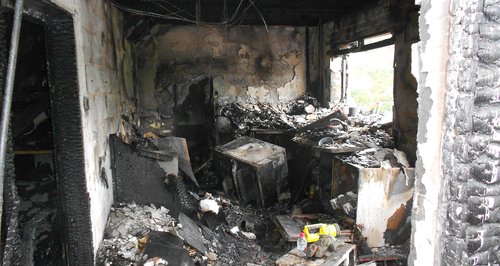 Working smoke alarms alerted the family to the danger when a fire started in the kitchen of their end-of-terrace property and they were able to leave their home quickly and safely.
Fire officers have praised a family for their actions as a severe fire destroyed their home in Bradninch, near Exeter, in the early hours of Tuesday 23rd July.
A closed internal door also helped delay the spread of the fire while the four children and their father left the house without stopping to pick up possessions.
Two dogs and a cat also left the property safely.
Station Manager Deasy said: "This was a severe fire with temperatures rising to in excess of 1,000 degrees Celsius.
"I would like to congratulate the family for doing exactly the right thing when the fire occurred and having the early warning in place to alert them to the fire.
"I would also like to thank their neighbours for rallying around them and giving them support and the fire crews for working tirelessly to extinguish the fire."
Mr Deasy added that having buildings and contents insurance is also important to help rebuild your life and property if a serious fire occurs.
Following the fire, two of the children were taken to hospital as a precaution suffering smoke inhalation and the house was destroyed by the fire.
The cause of the fire was being investigated.