Bunting And Yarn Bombing For Exeter
12 May 2015, 11:40 | Updated: 12 May 2015, 11:45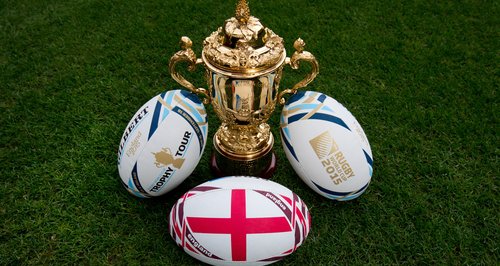 People are being invited to help play their part in decorating Exeter in the lead up to Rugby World Cup this year.
Preparations are underway to clad the city in bunting and 'yarn bombing' in white, yellow, red, green and blue - the colours of the teams taking part in the Rugby World Cup 2015 games at Sandy Park.

To kick things off there will be a launch event at Exeter Corn Exchange on Monday 18th May, where people pop in between 2pm and 8pm to find out more about the initiative.

At Monday's event there will be a presentation as well as workshops, pick-up patterns and a chance to deposit materials for the dressing of the city.

Organisers need as many people as possible to do as much or as little as they can to get Exeter looking good for the big event. People can donate materials either on the day or before and after by taking them to Bunyip Buttons and Beads on Fore Street, right up until the beginning of August. Organisers are also asking for donations of cakes for the launch event on Monday.

Mattie Richardson, a representative of independent businesses within Exeter as part of the Dressing Group, is leading on the 'Bunting and Yarn Bombing Project'. She has been getting in touch with a wide range of businesses, groups and organisations. She said:
"The main walking route in the city for rugby fans going to the Fanzone in Northernhay Gardens from the public transport hubs, and out at Sandy Park, will be decorated in the official branding. This leaves much of the city untouched by the event, something we would like to change! I was in Harrogate for the Tour de France, and was amazed by what was achieved to decorate what seemed like the whole of Yorkshire, and I'd love to do something similar here in Exeter.

"We want to dress other key locations such as Guildhall Shopping Centre, South Street, Fore Street, parts of the High Street, Princesshay, inside Northernhay Gardens, and anywhere in between and beyond if we can stretch our resources. This will be in colourful traditional flag bunting in white, yellow, red, green and blue – the colours of the countries flags of the five teams who will be playing at Sandy Park, as well as quirky bunting based around knitted or crafted materials in the shape of rugby shirts and shorts.

We also want to bring 'yarn bombing' into the dressing, which is trendy, popular and eye-catching knits to cover various items of street furniture and flora. As it will be up and mostly outside for 3 months, we need it to be as weather-proof as possible!

We want everyone to be involved in creating an amazing, memorable and enjoyable atmosphere for all our visitors – in person and through the power of television – and ensure that Exeter and the surrounding areas are remembered for being such a welcoming place."

Exeter is Host City to three Rugby World Cup 2015 matches when the tournament comes to England and Wales this autumn from 18 September 2015 until 31 October 2015. An expected global television audience of 4.2 billion will watch the event with and an estimated 466,000 visitors to the UK.

Official RWC 2015 branded city dressing (banners, posters etc) will go up around the city around 6 August - marking 100 days to go - so the bunting/yarn decorations should go up around that time too, ideally staying up until 1 November.

Absolutely anyone can get involved and organisers welcome offers of help from craft and social groups, charities, schools, playgroups, organisations and institutions across Exeter and the surrounding areas.