Crack Down On Bad Behaviour In Exeter
14 September 2018, 13:16 | Updated: 14 September 2018, 13:18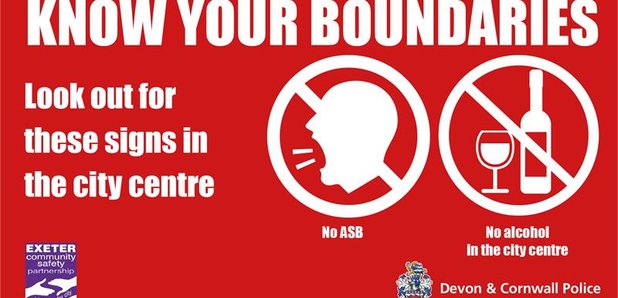 Devon and Cornwall Police are painting temporary red lines on key routes in Exeter to promote an anti-social behaviour free zone.
The campaign, called 'Know your boundaries' is designed to be a visual reminder of the Public Spaces Protection Order (PSPO) where certain conditions have to be met.
It aims to stop behaviour that could a detrimental effect on the quality of life of people in the area and could see people fined up to £1000 for drinking alcohol and committing other anti social behaviour.
The boundary lines will be displayed between Sunday 16th and Sunday 23rd September, to coincide with the start of freshers week.
Superintendent Matt Lawler, head of policing in Exeter said "This new innovation is aimed at visibly increasing awareness of the area covered by Exeter's existing Public Spaces Protection Order, keeping the city centre free from street drinking, anti-social behaviour and other alcohol related, inconsiderate behaviour. By marking out the area and placing additional signage, it is intended that both residents and visitors will be reminded of the order and the expectations of behaviour."
He continued, "The aim is prevent problems occurring, but officers will of course continue to enforce the PSPO where it is felt necessary, so everyone can enjoy all that the city has to offer throughout the day and evening."