Devon: Bad parking Could Cost Lives
14 April 2014, 05:04 | Updated: 14 April 2014, 07:30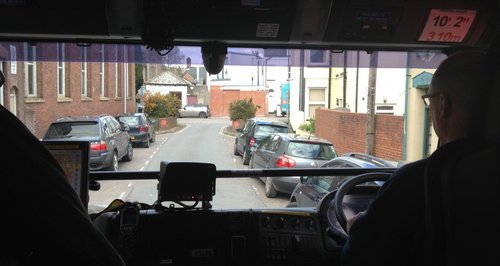 Every second counts when it comes to emergency services reaching the scene of a 999 call.
But there are fears that bad parking could cost a life – recently there have been near misses in Plymouth, Exeter and Torquay.
Firefighters have been delayed by several minutes; due to inconsiderate and mostly illegal parking, this is also having an effect on target driven response times.
Crews have 10 minutes to get to a house/property fire and 15 minutes to get to a road traffic collision.
Devon & Somerset Fire & Rescue Service is asking residents and visitors to be considerate when parking outside their homes or at tourist locations.
The Service has noticed that an increasing number of homeowners want to park their vehicles directly outside their properties without considering that access may be required for fire appliances in an emergency.
This is particularly important in cul-de-sacs and at the end of roads that have a narrow access.
With the size of our vehicle being 3m high more than 20m long, fire crews need slightly more room to manoeuvre than a car.
Because this is a holiday area visitors also need to be aware of parking issues and not automatically switch off when they arrive at their holiday home to sightseeing location.
Boats also need to be sensibly positioned and not left inconsiderately on the highway and pavements."
The Service is asking people when parking their vehicle to:
• Park close to the kerb
• Leave enough space for a fire engine or an ambulance to pass
• Leave extra room near tight corners
• Fold in your wing mirror
It is an on-going problem which occurs all over the Service area and there have been occasions when bad parking has delayed fire engines from reaching serious incidents.
When people are parking outside their home they are being asked to spend a few seconds thinking to consider whether a fire engine or ambulance would be able to get to their house in an emergency.