Exeter: Disabled Riding Will Continue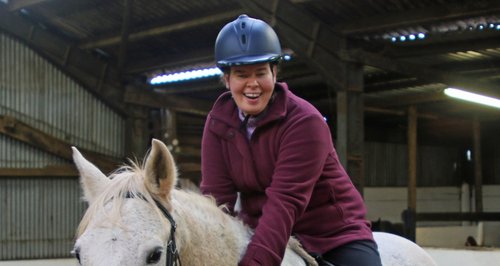 Riders at Exeter RDA, a local riding centre for disabled children and adults have got new safety hats thanks to support of players of People's Postcode Lottery.
The brand new hats have been provided to Riding for the Disabled for less than half their recommended retail price as funding from players enabled the charity to bulk buy and obtain a substantially reduced price.
New EU regulations have outlawed the use of certain types of riding hat, and groups like Exeter RDA were facing a significant bill to replace their existing hats.
RDA UK, which supports around 500 groups all over the country, stepped in and allocated funds awarded from players of People's Postcode Lottery.
Riders enjoy their sessions and rely on them to be here each week with all the equipment they need.
The new hat regulations came as an unexpected and costly outlay for our small group and at first we were really worried about how we could afford to replace all the hats.
But then we heard that funds were available to help us.
Thanks to players of People's Postcode Lottery we now have a full set of shiny new hats, which we love! says Exeter RDA Volunteer, Becky Wilkins.
RDA UK Chief Executive Ed Bracher explains: "All our groups are their own individual charities and they have to fundraise to carry out their life changing activities.
"This can be challenging enough, but when faced with unforeseen expenses, like these new regulations, the effect on groups and their riders can be devastating.
"That's when the support from players of People?s Postcode Lottery really comes into its own.
"Because we can decide where to target funds, we have been able to respond quickly to support our groups and minimise the financial impact.
"We are also hugely grateful to the support of Tagg Equestrian, the hat supplier who worked with us to make this project possible."
For more information CLICK HERE: https://www.facebook.com/Riding-for-the-Disabled-Exeter-Group-1406980539629256/?fref=ts