Firefighters tackle big blaze in Paignton
11 October 2018, 22:06 | Updated: 11 October 2018, 22:26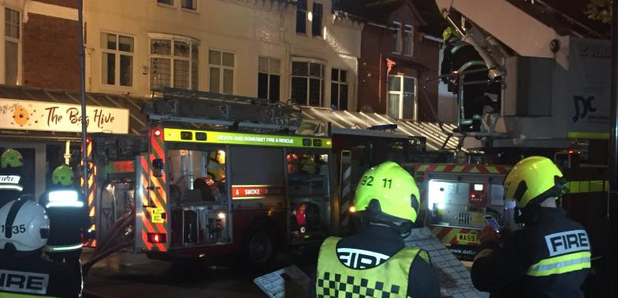 More than 100 firefighters from across Devon helped tackle a blaze in the middle of Paignton.
Sixteen fire engines and two aerial platforms came from as far as Exeter and Plymouth.
It's believed the fire started in a deep fat fryer in a fish and chip shop in Torbay Road.
By the time firefighters had put that out the flames had gone up a flue and spread to the flats above.
Firefighters spent the next few hours trying to stop the spread of the fire to neighbouring buildings in the terrace row.
A number of people were evacuated with at least twenty needing to be re-homed.
Two of the residents suffered from smoke inhalation and were treated at the scene by paramedics, and did not require hospital treatment.
It's thought a total of five properties have either smoke or water damage or a combination of both.
Crews spent hours tackling pockets of fire and stripping roof tiles.
The road is likely to be closed for most of the night while structural engineers survey the scene.
Road users and workers are being warned that they could face delays during the morning rush hour, they will endeavour to open the road as soon as possible.