Hit and Run victim speaks for first time about injuries
30 January 2017, 06:00 | Updated: 30 January 2017, 09:15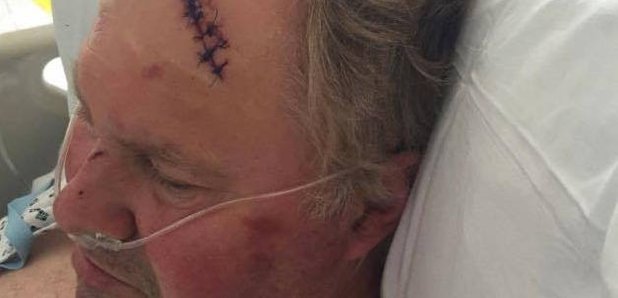 Police have renewed their appeal for witnesses after the hit and run in June last year.
On the 11th of June, Kelvin was walking home from Bradninch music festival, near Cullompton, when he was hit by a car.
Police say they were called at 11.30pm, when he was found in the road with serious injuries by a passer by.
The 53 year old suffered broken ribs, several fractures, a fractured scull and internal injuries to his pancreas.
He says life and his family's lives have been turned upside down by what happened to him 7 months ago.
His son, Stewart, who was one of the first on the scene, says it was "horrific - there was blood everywhere. He was laying in the road like a bit of road kill really".
The incident was investigated by officers from the Serious Collision Investigation Team who unfortunately were unable to identify the driver or vehicle involved.
But, last week the family recieved an anonymous tip off, which has been passed to Devon and Cornwall police, who've issued a new appeal for witnesses.
Police say they want to trace the person who provided the family with this anonymous information.
After spending 41 days in hospital, including a stint in intensive care, Kelvin has still not been able to return to work, and is having physiotherapy as part of his recovery.
He tells Heart he can't remember anything, until waking up in hospital - "Somebody out there knows something, and maybe you know something else which could help".
MPC Nigel Cox from Devon and Cornwall Police says "We are asking for the person who gave the information to the family to contact police or Crimestoppers anonymously on 0800 555111.
"Anyone who has information is asked to contact police via 101@dc.police.uk or call 101, quoting log number 1058 of 11 June 2016.
" You can also give information anonymously through Crimestoppers on 0800 555 111".