Knife Amnesty Held By Devon & Cornwall Police
Devon and Cornwall Police is holding a knife amnesty this month to give people the opportunity to safely hand in potentially dangerous weapons.
Police want to give people the opportunity to hand these shocking weapons in, along with any other unwanted knives, to take them out of circulation, avoiding them ending up in the wrong hands.
This initiative has been prompted by the recent legislation that now prohibits the sale or importation of 'zombie knives'.
The amnesty will run from Tuesday 15 until Monday 21 November 2016.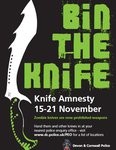 'Zombie knives', which tend to have a serrated edge and can be up to around 60cm in length are inspired by horror films and have been advertised as collectors' items.
Freely available on the internet, there is a concern these could end up in the hands of criminals.
Acting Detective Superintendent Ben Deer said: "These zombie knives can cause devastating damage and glamorise violence. I would urge anyone who has obtained one of these weapons to take this opportunity to hand it in.
Knife crime is relatively low in Devon and Cornwall and we do not want to see these weapons being used by criminals or in acts of violence as we have seen in other parts of the country."
Special red collection bins will be located at all police enquiry offices – for a list of locations visit www.dc.police.uk/peo