Last chance to comment on Cullompton relief road
24 October 2018, 10:57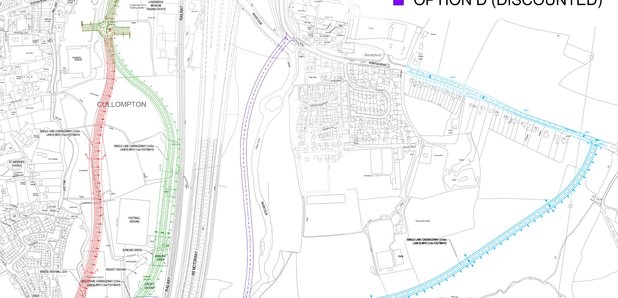 People living in and around Cullompton have still got time to comment on plans for a relief road.
The consultation on plans for a relief road in Cullompton is coming to an end - with just hours left for people to comment.
The public consultation ends on Thursday 25th October 2018.
Now people living in the area are being asked to make sure they comment on the plans.
The Cullompton Town Centre Relief Road was first proposed to move traffic away from Fore Street and the town centre in 2011.
It's hoped a relief road would reduce queuing on local roads and the M5.
Three different routes are included in the plans, with no preferred route indicated.
Options A and B are to the West of the M5, and would cut through the CCA fields.
Option C follows Honiton road to the East of the M5, before cutting back in towards Dukes Road, near the Leisure Centre.
Local campaigners say Options A and B are unacceptable because of the damage they'd cause cutting through the CCA fields - a large public open space, which includes the football and cricket clubs.
Residents have also expressed concerns about Option C, saying traffic congestion on Honiton road is already a problem.
Councillor Nikki Woollatt says "The council contracted a company to deliver leaflets to homes int he town, advising them of the consultation, I've heard from hundreds of people saying they did not get a delivery".
Now she's encouraging people to make sure they have their say HERE.