Mobile Charger Warning After Exmouth Fire
9 February 2017, 09:16 | Updated: 9 February 2017, 09:20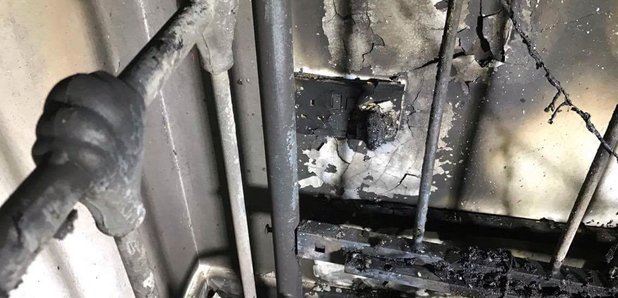 Firefighters are warning people not to use unofficial phone chargers.
It comes after a charger started a fire in a teenager's bedroom in Exmouth, causing significant damage.
Fire crews were called to St Margaret's View early on Wednesday morning after the girl had seen a fire in the corner of the room and woke the rest of the family. Her mother closed the door of the bedroom and the family were able to leave the house.
Station Manager Nigel Deasy, of Devon & Somerset Fire & Rescue Service, said: ''The family did the right thing by closing the door on the fire and leaving the property safely before calling 999.
''We would like to remind people to ensure they buy chargers from a reputable retailer or the product manufacturer as unofficial chargers are often made with poor quality components that fail to meet UK safety regulations.
''In addition, do not leave electrical items charging on soft furnishings which allow a local heat build-up with the risk of it causing a fire.''
Electrical Safety First and the Fire Kills campaign have the following tips to help shoppers avoid dangerous fake and substandard electrical products:
Buy electrical products from reputable retailers, this way you can be assured you're buying the real thing.
Check prices and shop around!
Check online shops and if possible, visit the high street. If a bargain looks too good to be true, it probably is.
Check that voltage is 230-240V, 50Hz and that products are fitted with a three-pin UK plug or charger
Look for the padlock symbol at the bottom of the screen when you are filling in your payment details.
Beware glowing reviews, especially if the reviewers aren't verified. Beware of words qualifying an item's authenticity, if the seller claims the product is 'genuine', 'real' or 'authentic' double check the source. Most reputable retailers don't need to sell their products like this.
Look for the seller's contact details, for online marketplaces.
Look for a full address and not just a PO Box number. Not all websites with a .co.uk address are based in the UK Read product guarantees, terms and conditions, and returns policies before you buy