New £300m plan for Exeter city centre
20 November 2018, 10:14 | Updated: 20 November 2018, 10:17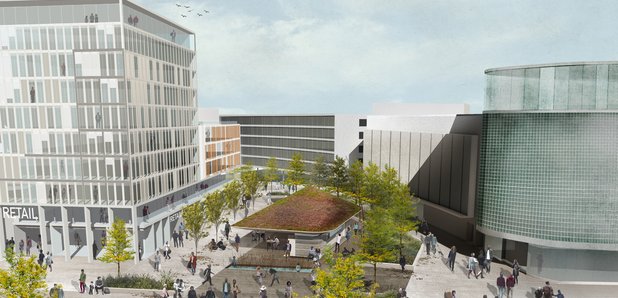 A new £300m vision to redevelop a key site in the centre of Exeter has been revealed by the City Council.
The development concept for Exeter Bus Station includes housing, offices, restaurants and retail, as well as the possibility of a new multi-use entertainment venue.
It would sit alongside the planned new state-of-the art Passivhaus leisure complex St Sidwell's Point, and a new Exeter Bus Station, which are both being funded by the city council.
Details of the vision, which also includes the potential to relocate the Civic Centre to the site to free up space for much-needed new housing, will be discussed by the council's Leisure Complex and Bus Station Programme Board next week.
The vision for the site includes:
The potential for a multi-purpose performance venue, with a capacity of around 1,200 seated or up to 2,500 standing 250 housing units for sale on the current Civic Centre site, and 250 units of housing built to rent
A ten-storey, four star hotel with 175 rooms, and a budget hotel Almost 40,000 sq ft of retail units fronting Sidwell Street The potential to house the relocated Civic Centre
A new Office Quarter, with units over eight storeys More than 15,000 sq ft of food and drink outlets Flexible working space alongside the leisure centre Public realm enhancements – a new square in Paris Street and new civic space
The vision shows a pedestrianised Paris Street, which remains a long term aspiration for the authority.
A report for councillors reveals the previously approved budget to build the leisure complex and new bus station will need to increase.
The authority has had to overcome challenges around access, site levels, the external cladding and appearance of the new leisure complex, as well as inflation.
Councillors will be asked to approve an additional budget of £11.88m to build the leisure complex and bus station and kick start the rest of the redevelopment at the site.
In addition to £39.92m already approved by council, it brings the total budget to £51.8m.
The authority has saved and ring fenced £33.65m - income from new homes bonus, community infrastructure levy (CIL), Section 106 agreements and capital receipts for the purpose of delivering the leisure complex and bus station.