Newton St Cyres: Objects Placed On Track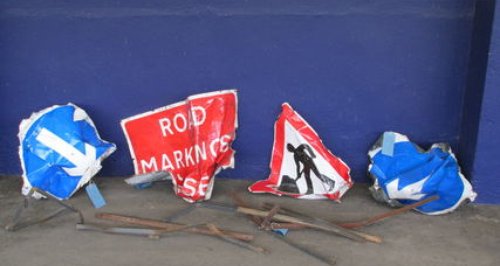 British Transport Police (BTP) officers are appealing for information following a series of incidents where objects deliberately placed on the railway were struck by trains.
The incidents all took place in and around the village of Newton St Cyres in Devon.
The first time in happened was on Tuesday, 5th May, four concrete troughing lids were deliberately placed on the line close to Newton St Cyres station.
The first train through the station at 5.50am hit the lids.
While no injury or damage was caused, there were delays to services while the incident was investigated.
On Saturday, 16 May, two metal road signs and four road cones were placed on the line around four miles from the previous incident, at Yeoford.
Four more road signs were placed on the tracks at Newton St Cyres station some time between 12.30am and 5.50am on Friday, 22nd May.
Sgt Dave Mannion said: "We believe these were deliberate acts, and again the objects were hit by trains.
"Fortunately nobody was hurt in any of the incidents, but clearly the actions of those who are doing this are reckless.
"They have endangered the safety of everyone on board the trains which struck the objects, and are risking their own safety by trespassing.
"We are working hard with the local community to find those responsible. I would urge anyone with information to get in contact."
Anyone with information is asked to contact British Transport Police on 0800 40 50 40, or text 61016, quoting reference GSUB/B11 of 05/06/2015.
Information can also be passed anonymously to the independent charity Crimestoppers on 0800 555 111.