Storm Imogen: Lucky Escape For Devon Family
A father and his 10 year old daughter had a miraculous escape on Monday 8th February – when a 100 foot tree came crashing down on their car.
Russell Cooke and his daughter Elsie were just about to leave on the school run when a giant limb of the tree smashed down on to their family car parked outside their home in Ide near Exeter, Devon, at 8am.
The branches from the tree crashed into their front garden and over the front of their home – and would have crushed the pair had they been on their driveway or in the smashed car which was crushed by the tree.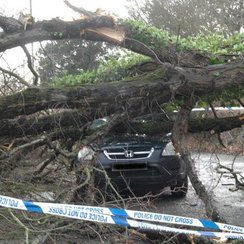 The family and their neighbours said they had concerns about the state of the tree for nearly 20 years – even since they moved in.
They have contacted the local Teignbridge Council about their anxieties but nothing has been done.
Elsie's tearful mother Sarah said:"Another five minutes and Russell and Elsie would have been in the car about to leave for school.
"Another neighbour drove past just minutes before with her two young children in her car.
"We have been worried about this tree for years. It is around 100 feet tall and our homes are just a few yards from it.
"Looking at the trunk which has split away, the whole thing looks rotten.
"And with the storms we are worried that that the rest of it may come down on to our homes."
Local residents were urged to evacuate their homes.
Police, a fire crews and highways staff were called to the scene but specialist contractors were being called in to remove the stricken tree and assess whether the rest of it should be toppled.