Suspicious Packages In Exeter
29 June 2015, 16:34 | Updated: 29 June 2015, 16:39
Two suspicious packages found in Exeter city centre have been "made safe'' following assessment by bomb disposal experts.
Devon and Cornwall Police were called to York Road in the Devon city at 6.55am after a suspicious package was discovered at a primary school.

Caretaker Brent Hibbs found the package on the railings of St Sidwell's School and alerted police after he saw wires when he looked inside it.

A second package was discovered at a car park on nearby King Williams Street - close to Exeter Mosque - at 9.15am.

A "full multi-agency'' response was launched, involving police, bomb disposal experts, fire and ambulance services and Devon County Council.

Police announced the second package was "safely dealt with'' at 1.20pm and confirmed both packages had been "made safe'' at 3.30pm.

A force spokesman said:
"Following assessment by bomb disposal experts, the devices found on York Road and King William Street in Exeter this morning, Monday, June 29, have been made safe. The scene cordons on both King William Street and York Road are now being reduced to the immediate scenes of the incidents as a result. Road closures around the city centre will begin to be lifted shortly, although traffic congestion in the run-up to rush hour is expected to take some time to be cleared. Police would like to thank all residents for their patience and co-operation throughout today.''

St Sidwell's Primary School was evacuated and closed following Mr Hibbs' discovery this morning. Headteacher Kathryn Rowden said pupils were taken to a nearby park, then St Sidwell's Chapel before being moved to St Matthew's Church. By 10am, only one of the 200 pupils and 42 nursery children's parents had not been contacted and collected them. Miss Rowden said:
"Obviously our first thoughts were for the safety of the children and staff. Our staff did an excellent job in evacuating the children quickly and efficiently. I cannot comment on the motive for this. But I would point out that St Sidwell's is a Church of England school and we have children of all faiths, and some with no faith, who learn together and play together very harmoniously. I want to thank our parents for their support and the children for taking this all in their stride.''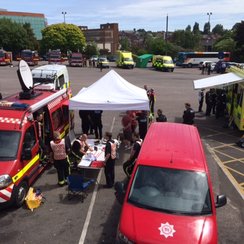 Police initially closed York Street at both the Sidwell Street and Longbrook Street entrances.

Further road closures took place following the discovery of the second package, with residents evacuated from their homes and taken to rest centres at Exeter Bus station and St James Park football ground.

Dozens of bus services across the city centre were affected by the incident and police warned there could be disruption to train services.
The Bishop of Exeter, The Right Revd Robert Atwell, has criticised those responsible for the incidents:
"I deplore what appears to have been an attempt to spread fear and confusion across Exeter, particularly one which has targeted children at a primary school.
I commend the headteacher and staff at St Sidwell's for their calm handling of the situation.Crude attempts like this try to undermine the community spirit that binds us together, but they will always fail. We must resist fear and respond to it by strengthening the ties between us.
As we see from tragedies such as that in Tunisia, the impulse of the human spirit to help others, even in the worst possible circumstances, will always triumph."

Exeter, Mid and East Devon Commander Superintendent Keith Perkin said:
"Today's events have caused considerable impact to residents and business across the city. We don't under estimate how difficult road closures and evacuations can be for local people, but safety of all our communities remains paramount. I'd like to thank all of our communities and partner agencies for their role in what has been a professional and proportionate response to today's incident.''

Anyone with information about the incident is asked to call the force on 101, quoting log 95 of Monday June 29.