The Devon Valley Helping Refugees
15 October 2018, 15:26 | Updated: 15 October 2018, 15:46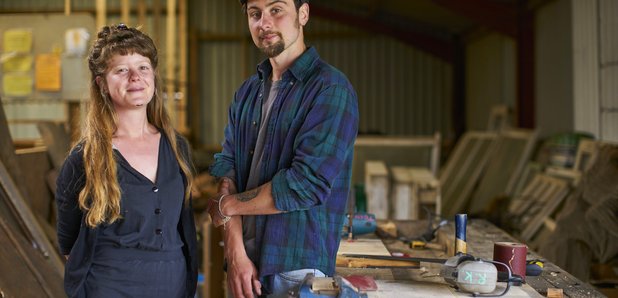 The Ground UP will raise the roof on their first natural building programme, using grown larch and using traditional joinery techniques and hand tools; on the grounds of Embercombe an educational centre in the Teign Valley 7 miles south of Exeter.
During the 10 week programme the participants, who have all received refugee status and pursuing a career in construction, have been learning the skills required to construct the frame and roof of the roundhouse.
Many were carpenters or builders in Syria before being forced to flee the country and haven't been able to work for several years. Mahmud, one of the participants on the programme, said: "I have worked every day for 15 years but this is the first day's work I have done in the last 2.
Do you know how that feels?"
The project aims to give people the opportunity to do creative and meaningful work, whilst also creating beautiful spaces to be used by them and other groups in years to come.
Using only hand tools, so while we work the valley echoes with the sound of chisels on wood, hand saws tearing through timber and Syrian pop songs.
The focus is on helping participants develop practical skills but also crucially to help improve mental and emotional well-being.
Fati, another participant, rather poetically put it: "This work is feeding the mind and the body."
The Ground UP have seen first-hand how transformative it can be to allow people the chance to engage with their own environment in a very real way; to have a hand in building the spaces they use and, in the process, building something in themselves.
Both founders Adam and Niaomh have worked extensively with refugees both here in the UK and at the Oinofyta refugee camp in Athens, Greece.
In 2018 Adam Land received a Young Innovators Award from government agency Innovate UK, for the work he's doing through The Ground UP.
Most of this work focused on trying to combat poor mental health and depression through creating opportunities for meaningful and creative work.