A14 - Engineers Explain What's Gone Wrong
12 July 2017, 17:34 | Updated: 12 July 2017, 17:37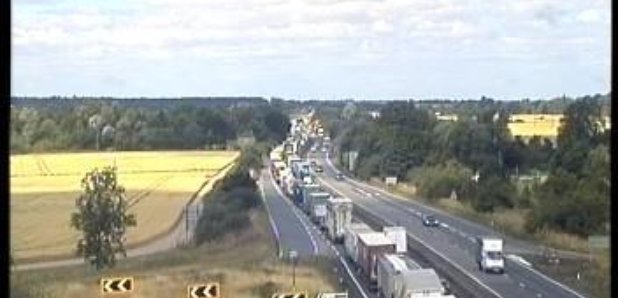 A day of delays has beset beleaguered drivers all around Huntingdon today after a SECOND pot-hole as closed off the A14.
At the end of June, Highways engineers had to force an emergency closure of the A14 at Godmanchester after a pot-hole appeared - it caused widespread congestion.
This morning - at around 1030am another pot hole at Godmanchester forced the closure again on the westbound carriageway. It's led to delays for hours for traffic on all the surrounding routes. Separately, a two lorry fatal accident on the eastbound side at Brampton Hut added to delays.
So WHY has this happened, and will there be a repeat with another pot hole?
We've put that to the Highways England agency.
This is what they've told us:
"The combination of heavy rain and heavy traffic on the A14 near Huntingdon have generated water pressures leading to the breakup of the surfacing.
Water is getting beneath the surface on the bridge deck and in this case has led the surfacing to lift slightly, resulting in cracks and then potholes developing very rapidly.
This type of surface defect has occurred elsewhere on the road network and has occurred several times recently on the Huntingdon railway viaduct.
We are developing urgent solution to prevent this issue from happening again in the future on the viaduct and would like to apologise to road users of the A14 for the delays they have been experiencing today while we work hard to make the road safe before reopening it."
Stay with Heart for the latest travel.