A428 More Plans To Speed Up The Road
6 March 2017, 05:00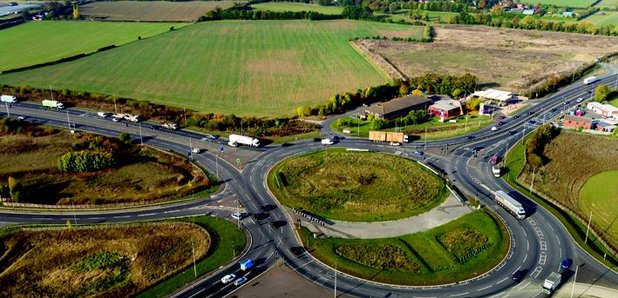 Plans for a project to improve motorists' journeys on the A428 between Cambridgeshire and Bedfordshire go on show today (Monday 6th March).
The idea is to completely redesign of the recently upgraded A1/A428/A421 Black Cat roundabout, near Wyboston, to include a motorway-style junction and the construction of a new dual carriageway from the new junction to Caxton Gibbet roundabout.
The improvements will reduce congestion, improve safety and boost the economy and is part of the Government's record £15 bn investment in England's motorways and major A roads.
Highways England programme leader Richard Hofton said:
"The A428 is an important road linking St Neots and Cambridge. Dualling this vital road will mean it will be quicker and safer for people to get to where they want to be. The improvements will also help boost the economy and unlock housing.
There are important choices to be made and we are keen to get as many views as we can, so I encourage anyone who would like to find out more to check out the consultation materials online and come and see us at one of our public exhibitions."
A Highways England consultation seeking public views on the proposals runs until 23 April 2017.
Three options for the new dual carriageway route were shortlisted to be put forward to consultation:
:: Orange route - a new road from the new Black Cat junction to the A428 near Cambridge Road in St Neots, including a new Cambridge Road junction, and to the northeast of the existing A428, a new road from Cambridge Road to Caxton Gibbet, with a new Caxton Gibbet junction
:: Purple route - a new road to the south of the existing A428 from the new Black Cat junction, north of Abbotsley to Caxton Gibbet, including a new Caxton Gibbet junction
:: Pink route - a new road to the south of the existing A428 from the new Black Cat junction, south of Abbotsley to Caxton Gibbet, including a new Caxton Gibbet junction
BLACK CAT ROUNDABOUT PROPOSALS
:: Option A - removal of the existing roundabout, construction of two roundabouts to the west of the current roundabout, slip roads for drivers to get from the A421 to the A1, and from the A1 to the A421. The A1 would become a free-flow continuous road going under the slip roads
:: Option B - keeping the existing Black Cat roundabout and adding a new free-flow continuous link from the A421 eastbound towards the A1 northbound. The A1 would remain the same but the addition of slip roads would provide a free-flow link bypassing the roundabout for traffic moving southbound onto the A421
:: Option C - enlarging the existing Black Cat roundabout, the A1 would become a continuous free-flow road under the widened Black Cat roundabout and slip roads would be built between the A421 and the A1
We're now invited to attend one of the six public exhibitions to find out more and take part. The public exhibitions will be held as follows:
:: Wyboston Lakes (Tuesday 21 March) 2-8pm at Oakley Suite, Training Centre, Great North Road, Wyboston, MK44 3AL
:: Cambourne Hub (Thursday 23 March) 2-8pm at Cambourne Community Centre, High Street, Cambourne, CB23 6GW
:: Abbotsley Village Hall (Saturday 25 March) 10am-4pm at High Street, Abbotsley, PE19 6UJ
:: St Neots Priory Centre (Monday 27 March) 2-9pm at Priory Lane, St Neots, PE19 2BH
:: Stuart Memorial Hall (Friday 31 March) 2-8pm at Church Street, Tempsford, Sandy, SG19 2AN
:: Newton Primary school (Saturday 1 April) 10am-4pm at Caxton End, Eltisley, St Neots, PE19 6TL

See more: http://roads.highways.gov.uk/projects/a428-black-cat-to-caxton-gibbet/