All Go For Rail Development Inc. East-West Line
29 November 2017, 15:02 | Updated: 29 November 2017, 16:21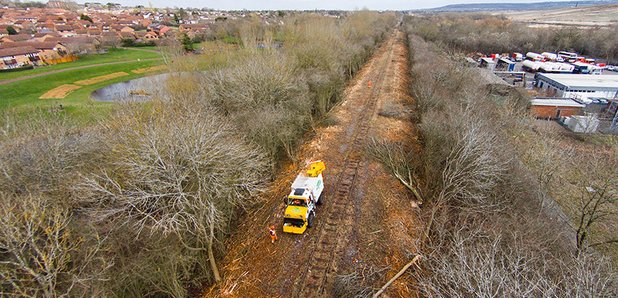 Rail reforms announced today could see the construction accelerated on the East-West Rail link, the breaking up of the Govia franchise area and trains to Wisbech again.
Rail lines closed during the notorious Beeching cuts of the 1960s could be reopened as part of sweeping reforms, the Transport Secretary has announced.
Chris Grayling said he wants to identify routes - like the Wisbech to Cambridge line - which would boost the economy, encourage house-building and ease overcrowding.
Restoring lost capacity is one of a number of measures featured in the Government's new rail strategy.
There are plans to split the troubled Thameslink, Southern and Great Northern franchise when the current contract with Govia Thameslink Railway comes to an end in 2021.
A public consultation has been opened on splitting up the Great Western Railway franchise.
It is proposed that one franchise would focus on regional services and another on long-distance routes.
The strategy also includes publicly-owned Network Rail sharing its responsibility for running the tracks with private train operators.
Joint teams managing day-to-day operations will first be rolled out across the South Eastern network with a new alliance director being introduced to take overall responsibility.
Rail campaigners welcomed the possibility of lines being reopened, but Labour and trade unions reiterated their calls for public ownership of the network.
Mr Grayling heralded the "massive growth" of Britain's railways in recent years as "decades of decline" under British Rail were reversed with passenger numbers doubling.
He said a "new model for the 2020s and beyond" is needed to cope with the increased demand which has caused congestion on the network.
The MP went on: "Rail passengers deserve a more reliable, more efficient service and I will deliver it by ending the one-size-fits-all approach of franchising and bringing closer together the best of the public and private sector."
Thousands of stations and hundreds of branch lines were closed between 1964 and 1970 after a report by British Railways chairman Dr Richard Beeching.
A new development programme will identify opportunities to restore capacity which offer good value for money.
The Department for Transport also pledged to "accelerate" the reopening of the rail link between Oxford and Cambridge.
A document published by the Treasury as part of last week's Budget confirmed funding for Network Rail to deliver phase two of the western section of East West Rail, from Bicester to Bedford and Milton Keynes to Princes Risborough, with passenger services running in 2023.
An independent East West Rail Company will be set up to deliver the central section between Bedford and Cambridge to open in the mid-2020s.
MK South MP Iain Stewart says he's heard from the Transport Secretary, trains could be running on the western section by 2021.
Boosting day-to-day reliability
Rail groups have welcomed a series of reforms designed to improve the network, but Labour and trade unions responded by repeating their demands for the railways to be brought back into public ownership.
Anthony Smith, chief executive of the independent watchdog Transport Focus, said passengers' priorities are reliable, punctual journeys that offer value for money.
"They will welcome plans that will help deliver this for them," he said.
"We're pleased to see that Government is listening to what passengers want and making that the main focus, in particular the emphasis on boosting day-to-day reliability."
Bruce Williamson, of campaign group Railfuture, claimed the suggestion that lines could reopen was evidence that the Government is "finally recognising the need to invest in rail".
He told the Press Association:
"When you hear about transport investment it almost always means more road-building. Let's hope that there is a stronger emphasis on rail this time.
The demand is there. Where re-openings have happened, particularly in Scotland, they have, generally speaking, exceeded all expectations."
The reopening of a line between the Scottish Borders and Edinburgh in September 2015 proved popular with passengers and a campaign has been launched to extend the route to Carlisle.
Stephen Joseph, chief executive of the Campaign for Better Transport, warned that it is "desperately difficult to reopen a rail line".
He said the announcement needs to be backed with new investment and a commitment to guiding local authorities through the "sometimes labyrinthine processes of the railway".
Network Rail chief executive Mark Carne described proposals to share responsibility for managing trains and tracks as a "positive move".
He said:
''Bringing track and train closer together is the right direction, and one we have been advocating for some time and is woven into our plans for the next five-year funding period, as we have seen the benefits and responsiveness this can give for our customers and for passengers."
Paul Plummer, chief executive of the Rail Delivery Group, representing the rail industry, said he was pleased the Government has "set out in its strategy a sensible evolution of the partnership railway".
Developing alliances between those responsible for trains and tracks will enable more trains to be run and punctuality to be improved, he added.
An East Coast Partnership will be created with responsibility for both intercity trains and track operations for the lines between London, Yorkshire, north-east England and Scotland.
The franchise is currently held by Virgin Trains East Coast, which is a partnership between Stagecoach and Virgin.
Sir Richard Branson, founder of Virgin, said having a single rail infrastructure provider across Britain "doesn't work" and there needs to be greater local focus.
"The Secretary of State's announcement is a welcome move in this direction," he added.
A spokesman for Govia Thameslink Railway (GTR) said: "GTR was created to deliver a large-scale, once-in-a-generation modernisation project and it was always understood that at the end of the franchise in 2021 an alternative model would be introduced."
Shadow transport secretary Andy McDonald described the proposals to reopen lines as "more jam tomorrow from a Government which has run out of ideas".
He went on: "The Tories' record is of delayed, downgraded and cancelled investment, huge disparities in regional transport spending and soaring fares that are pricing passengers off the railway.
"This unambitious strategy stands in contrast to Labour's plan to upgrade and expand the rail network across the country."
With the cost of regulated fares such as season tickets and standard returns increasing by 3.6% in the new year, Mick Cash, leader of the Rail, Maritime and Transport union, claimed it is "no good building new lines if no-one can afford to travel on them".
He pledged to "step up the campaign for public ownership", claiming the plan to split franchises is a "massive admission of failure".
Manuel Cortes, leader of the Transport Salaried Staffs Association, said Britain badly needed a new strategic plan for the railways.
"But under (Transport Secretary Chris) Grayling, trains grow more overcrowded, with passengers paying higher fares to privatised companies belonging mostly to the governments of Holland, Germany, Italy and France," he added.