Ampthill Man To Wakeboard For Nearly 7 Hours For Charity
7 August 2015, 06:20 | Updated: 7 August 2015, 06:34
A wakeboarder, whose father has terminal cancer, is attempting a world record today to raise money for charity.
James Gray from Ampthill, Beds will be trying to enter the Guinness World Record for the longest continuous wakeboard.

On Friday the 24-year-old will stand on a board being towed across water at Box End Park Lake in Kempston for at least 6 hours 43 without taking a break to raise money for Cancer Research UK.

He said: "I decided to attempt this feat when my dad was diagnosed with terminal cancer. He is currently undergoing treatment."

"I have been wakeboarding for the past five years, and compete and have visited wakeboard parks all over the world

"I wanted to do something that will really make a difference to the work of Cancer Research UK and those suffering from cancer.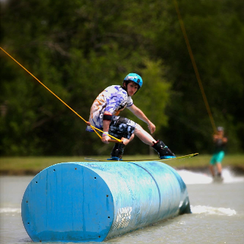 "If I let go of the handle, the cable has a power failure, a thunder storm occurs or if I sit or lean on the handle at any point I will fail."
His fund is currently at more than £4,200 of his £5,000 target.