Armed Forces Day In The East of England
24 June 2017, 05:15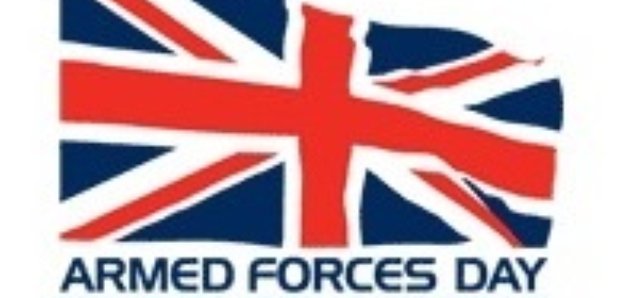 To mark Armed Forces Day - there's been a series of events taking place across the East culminating in lots of celebrations, free public events and displays this weekend.
SATURDAY 24th JUNE
:: DAVENTRY 11am-1130 in London Road.
Daventry Town Council will be marking Armed Forces Day 2017 with a flag raising ceremony at the Twinning Area.
:: HARPENDEN 1130am-5pm along the A1081
Armed Forces Day show, which will be based on the Royal Tournament/Last Night of the Proms with the Royal Chelsea Pensioners and Veteran Organisations, 3 Royal Anglian, 678 Squadron Army Air Corps, Band of the Royal Artillery, 162 Sqdn Royal Army Medical Corps, 151 Logistics Sqdn, Parachute Regiments and Cadet Units representing Royal Artillery, 795 Air Cadets, Irish Guards and Royal Anglians, and Action Man.
There will be Military Vehicle Preservation Groups, the de Havilland Aircraft Museum, Luton Model Club, Harpenden Fire Brigade. There is also a large musical presence from the Classical Chorus Choir, and the Rock Choir.
:: HAVERHILL 11-3pm in the High Street.
A community celebration of Armed Forces. Military Vehicles, Uniformed Groups, music and dance displays, children activities, stalls. Flag Raising Ceremony.
:: LETCHWORTH GARDEN CITY 10-5pm at Broadway Gardens.
The Royal British Legion Letchworth Branch will be holding an Armed Forces Day. On the day will be holding a fun fair, charity, commercial and food stalls, military dogs, military vehicles, Sea Cadets, Army Cadets and Air Force Cadets drill, pipe band and various entertainment. There will be a challenge cup for the Cadet Forces only, the general public can join in with the Cadets' drill if they wish to have a go.
:: LUTON 11am-4pm at Waller Ave
Armed Forces Day – Bedfordshire, aims to provide a community event, family fun day provided by local organisations. The Day will be opened by the High Sheriff of Bedfordshire.
:: NORTHAMPTON 9am-4pm in St Giles' St
Military vehicles will muster on Derngate from 10am, with a parade from 1030am. The Mayor and Lord Lieutenant will take the Salute on Wood Hill with the dias and speech from outside the Guildhall.
Then 11-3pm, there'll be Community activities on the market square, including street performers, stage performances, armed forces support agencies.

:: PETERBOROUGH 1030-5pm at Cathedral Square.
There will be performances, a parade, independent stalls, Military vehicles, Military Band, groups, charities, organisations involved with the Military, climbing wall, local schools involvement, local Cadets, Veterans, serving personnel, Pipe Bands, a flypast (weather permitting) and there will be more to follow.
:: SAFFRON WALDEN 1-6pm in Ashdeon Road.
33 Engineer Regiment from nearby Carver Barracks will exercise their freedom of the Uttlesford District by marching through Saffron Walden to the Market Square where they will be presented with medals. Thereafter, an afternoon of fun is planned on The Common where Military vehicles both old and new will be on display, Army dive tank, activities for children, live band, fun fair and the usual Saturday Market stall including a variety of food stalls.
:: STEVENAGE 11am-4pm at the Indoor Market.
Stevenage Indoor Market has been supporting Armed Forces Day over the past few years. This year during Armed Forces Day charities can again rent a stall free of charge in order to raise awareness and talk to people. Families can enjoy Punch and Judy show and there is also going to be free face painting, free Armed Forces Day cupcakes, free arts and crafts area for children, free balloons and free parking from 8am-6pm in multi Storey Car Park above the market.
** ** **
SUNDAY 25th JUNE
:: BRICKET WOOD 330pm til 6pm at the Parish Centre in Station Road
Parade of Standards leaving Black Boy Wood Shops at approximately 3.30pm and parading to the Parish Centre where we will be raising the Armed Forces Day Flag at 4.00pm. This will be followed by music from the Watford Band and a memorabilia display. Refreshments will be available on the lawn, all proceeds from which will be going to our nominated charity.
:: BEDFORD 10-4pm in Harpur Street
Armed Forces Day events in town today
:: MARKET HARBOROUGH 2-4pm in Scotland Road
Parade of Cadets and Veterans and serving troops through the town to the Square for a Drum Head Service . Refreshments after the Service in the Town theatre.
** ** **
1st of JULY
:: HEMEL HEMPSTEAD 11-4pm in Gadebridge Park
A free outdoor event with arena entertainment such as the Royal Signals Motorcycle Display team 'The White Helmets', fairground rides, local community group stalls and refreshments for all of the family to enjoy. Also at the event, a bagpiper will be performing with a small band and the fire and rescue service will be doing a chip pan demonstration.
:: ST NEOTS 12-6pm in Crosshall Road
Opening ceremony and flag raising, Military Displays, stage entertainment, stallholders, food outlets, RAF flypast, WWI Field Hospital, RAF Flypast, Big Band, dance groups, all with a 1940s theme. This event is free for the public to attend and attracts over 4,000 people on the day.