Bedford Restaurant Fire: Blaze Spreads To Flats
18 September 2017, 11:58 | Updated: 18 September 2017, 12:04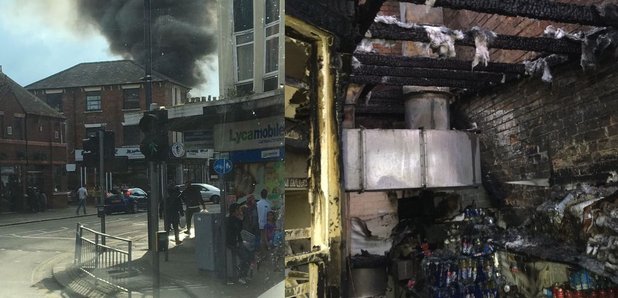 Bedfordshire Fire crews have released pictures from inside the Ali Badar restaurant which caught fire yesterday afternoon.
At 4.01pm, Sunday 17 September, Fire Control received a call about a fire in a deep fat fryer at the restaurant and take-away and despatched two fire appliances, one from Bedford and one from Kempston Community Fire Stations.
When crews arrived just 6 minutes later, they found the fire in the deep fat fryer had spread to ducting running through the building and gotten into the roof of the two and three storey terraced building.
Flames had also spread to the flats above the restaurant, so the crews on the ground needed more firefighters from Bedford and Ampthill and the Aerial Platform to support them in their firefighting.
Beds Fire & Rescue say:
"Wearing breathing apparatus to protect themselves against smoke and fumes Firefighters fought the fire, which had spread through the ground floor of the building, onto the first floor and into the roof void.
They used hosereels and jets to battle the blaze and get it under control and extinguished. By 7.30pm the fire was out and fire crews were damping down the sites of the fire and checking that it was completely out. They re-inspected the building at 10pm to ensure that it was not likely to re-ignite."
Watch Commander Steve Duffy said:
"This was a complex building to fight a fire in and the rapid offensive actions of first crews that arrived prevented the fire spreading to the surrounding buildings and the probable loss of the terrace, which included several businesses and homes. The crews did well to contain this serious fire and I'd like to thank them for their swift actions."
Group Commander Ian McLaren, Borough Commander North, added:
"The prompt actions and hard work of the first crews in attendance prevented the fire from spreading to adjacent businesses and private dwellings."
Group Commander Ian McLaren also praised the Police for their assistance throughout the incident.
The fire left the ground floor of the building 75% damaged by fire, heat and smoke, the first floor and roof void were 50% damaged by fire, heat and smoke. The fire started accidentally and there were no casualties.
The fire comes at the end of Business Safety Week during which the fire service urged businesses to ensure they had proper fire safety measures in place and regularly carried out fire drills.