Bedfordshire Airship Collapses At Base
18 November 2017, 12:22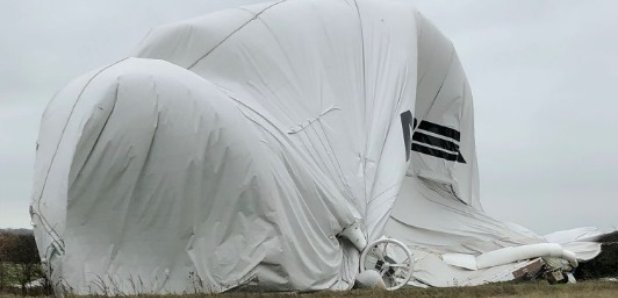 Emergency services are currently at the scene of a collapse of the Airlander 10 Airship at its base in Cardington.
Bedfordshire Police, paramedics and fire crews were called at 930am to reports of a collision involving an airship.
When officers arrived they found the giant 92 metre long airship collapsed onto a hedgerow at the Cardington base; the airship had come loose from its moorings.
One woman has suffered concussion, cuts and bruises and has been treated by paramedics for what's described as "minor injuries".
Roads around the airfield are closed including between Cardington and the Airfield, some around the perimeter and the Southill Road.
12noon update:
Firecrews have helped clear the debris & frame of the collapsed 92-metre long airship after it escaped its moorings at around 930 this morning at its base in Cardington.
Only yesterday, the Airship's operators, Hybrid Air Vehicles declared a successful 6th test flight had been completed during Friday.
The Hazardous area response team, HAZMAT on scene, but Bedfordshire Fire and Rescue have confirmed there's been no aviation fuel leak; a number of roads including Southill Road have been closed by police as a precaution.
Picture: BCH Road Policing