Beds Fire Donate Engine To Kenya
18 February 2016, 13:09 | Updated: 18 February 2016, 13:14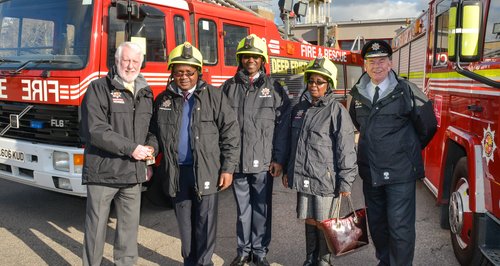 One of Bedfordshire's old fire engines has been donated to a county in Kenya.
The keys to a fire appliance have been handed over to His Excellency, Honourable Samuel Ragwa, who's the Governor of Tharaka Nithi County in Kenya.
The region includes some of the poorest parts of Kenya.
Bedfordshire and Tharaka have had a relationship since 2009, when a charity in Dunstable asked the fire service to help buy an appliance to send over.
In March 2009 the Onset Trust and BFRS shipped the fire engine to Kenya, along with volunteer Firefighters and transport professionals.
To date, Kenyan authorities have received four fire engines, one water carrier and a disaster response vehicle.
Governor Samuel Ragwa, said: "I would like to thank the Bedfordshire Fire and Rescue Authority Chairman and the Chief Fire Officer for their continued assistance to communities in Kenya.
"This generous support will continue to strengthen the capacity of our local firefighters and make Tharaka Nithi County a safer community."