Biggest Rail Fare Increases In Five Years
5 December 2017, 18:10 | Updated: 5 December 2017, 18:19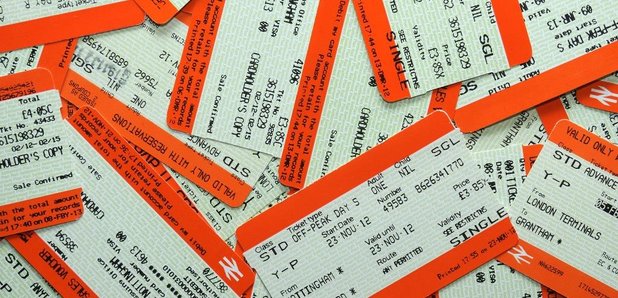 Rail passengers will be hit by the largest fares hike in five years next month across London and the South & East.
Average ticket prices across Britain will go up by 3.4% on January 2, industry body the Rail Delivery Group (RDG) said.
It is the sharpest rise since 2013, when fares increased by 3.9%.
Passenger watchdog Transport Focus compared the news to "a chill wind" blowing down platforms as many passengers' incomes are stagnating or falling.
Another kick in the teeth
Chief executive Anthony Smith said:
"While substantial, welcome investment in new trains and improved track and signals is continuing, passengers are still seeing the basic promises made by the rail industry broken on too many days."
One in nine trains (12%) failed to meet the rail industry's punctuality target in the past 12 months.
That means they arrived at terminating stations more than five minutes late for commuter services or 10 minutes late for long-distance journeys.
The Rail, Maritime and Transport (RMT) union described the fares announcement as "another kick in the teeth" for passengers.
General secretary Mick Cash said: "For public sector workers and many others in our communities who have had their pay and benefits capped or frozen by this Government, these fare increases are another twist of the economic knife.
"The private train companies are laughing all the way to the bank."
So where IS the money going?
:: Electrification of the Midland Main Line will bring faster, greener, more reliable journeys on the route between Sheffield and London St Pancras, helping support local growth. Electric trains will also mean more seats and less track maintenance.
Once complete, the upgraded line between Kettering and Corby and Bedford to Kettering will deliver a speed improvement and create further capacity that enables more frequent passenger services to/from London St Pancras
Upgrades to track, signalling and associated infrastructure will improve the capability of the existing Bedford-Kettering-Corby line and create additional capacity. The upgrade also creates a more robust diversionary route that will enable planners to minimise disruption arising from future engineering works on the line.
:: Passengers from Stevenage will be able to reach Heathrow with a single change, and it'll avoid using the tube with a connection for all Thameslink trains with Crossrail (Elizabeth Line) at Farringdon.
LONDON MIDLAND AREA - NEW FRANCHISE; WEST MIDLANDS TRAINS FROM 10th DECEMBER 2017
:: Passengers will also be entitled to 25 per cent compensation if their train is delayed by 15 minutes. They will continue to receive 50 per cent of their money back for delays of half an hour and full compensation if it is more than an hour
:: Free Wi-Fi will also be available on all main line trains by the end of December 2019
:: More accessible services with a reduction in the period of prior notice required for passenger assist, down from 24 hours to 12 hours in January 2020 and reduced further to 4 hours in January 2021
:: More than £60m invested on station improvements which will deliver over 1,000 new car park spaces, over 2,500 cycle parking spaces, a cycle hire scheme trial, new and refurbished waiting rooms, and more seats at stations