Biggleswade - New Bedfordshire Policing Plan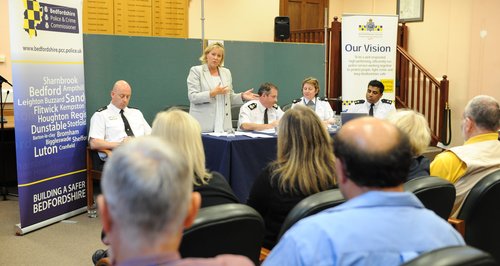 Further details have been released by Bedfordshire Police and Crime Commissioner Kathryn Holloway after a meeting last night on new policing plans for the Biggleswade area.
Commissioner Holloway says it means they'll also be a new policing team of high visibility community officers to fight crime in the town.
Residents attended the meeting last night in Biggleswade heard from the PCC, as well as Deputy Chief Constable Mark Collins, Superintendent for the North Julia Pink, Cohesion Inspector Hob Hoque and Inspector Bill Abram from the Force Control Room.

"I have become increasingly aware of the concerns of Biggleswade residents over matters from ASB to illegal traveller encampments," said Commissioner Holloway.
"I operate a policy of making sure that there's action to address public concerns and that is precisely why Bedfordshire Police are not only introducing brand new community officers who will police the town at higher profile, but the Force and I are doing so at a public meeting to explain this good news and focus in on the genuine concerns of the people of the town."
A statement to Heart Radio from Bedfordshrire Police says:
"Additional officers will be assigned to the town including one police sergeant, four police constables and four PCSOs, two of whom will focus on anti-social behaviour. The town will share an Inspector for the North of the County Community Team. More rural surrounding areas will also be served by the Rural Crime Liaison Officer, who came into role earlier this summer.
The Commissioner added: 'I'm fully aware that residents of the smaller towns like Biggleswade feel they're losing out on policing due to the demands of larger neighbours like Luton and Bedford.
I gave an absolute commitment to the people of Bedfordshire to increase community police officers on the Frontline and ensure they are deployed in the highest profile ways possible in town centres where local residents and workers can see them out and about.
With the introduction of new Community Hubs across the county, officers will be able to tackle the issues that specifically affect Biggleswade, like anti-social behaviour and speeding offences, and this personal approach will offer a more effective service.'
New plans for policing the Biggleswade area include a new base at Sandy Station, to be used for occupational health personnel to try to support the maximum number of officers and staff back to full working, and a new initiative called Business Watch, similar to the Force's Speedwatch and Streetwatch volunteer schemes.
'There will also be an additional boost to Biggleswade with the introduction of the new cadet unit in the town, which will cover Shefford and Sandy, so local young people can get a taste of policing and contribute to their county through their police force.'
Deputy Chief Constable Mark Collins, announcing the new deployment of officers for Biggleswade at the meeting, said:
'I agree we didn't get it right on neighbourhood policing in the past, but we are committed to rolling out a community hub including additional officers that will be dedicated to patrolling the streets of Biggleswade.
The PCC, the Chief and I will be pushing the Government very hard for the right formula and the right funding for Bedfordshire. They are beginning to recognise we are a unique force, and they will be looking at what we deal with and our funding needs.'
The audience was also told of a business case being prepared by Bedfordshire Police for a dedicated Rural Crime Unit in the Force to help country communities and to deliver on the Commissioner's Police and Crime Plan pledges.
The Commissioner's Plan is available to view at bedspcc.org"