'Breaking Bad' Drugs Gang Jailed
28 July 2015, 06:20 | Updated: 28 July 2015, 06:24
A Breaking Bad-style drugs gang - including a Bedfordshire man - has been jailed for more than 80 years.
Mastermind George Rogers, 78, ran the plot from prison despite his illness and recruited a self-taught chemist to set up a lab and make the highly addictive drug crystal meth.

He formed a UK-wide team who obtained a kilo of cocaine and planned to sell it for £60,000 so they could buy the chemicals and equipment from the Netherlands needed to manufacture the drugs.

The case was likened to the US TV show Breaking Bad, where high school chemistry teacher Walter White starts making crystal meth to raise money after he is diagnosed with lung cancer.

But unlike the fictional version, the real-life plot stopped before they could flood the south west of England with drugs after undercover police bugged their cars.

Eight members of the gang who were convicted following a three-month trial at Bristol Crown Court have now been jailed for between four years and 18 years.

Career criminal Rogers, from Brislington, Bristol, masterminded the plot from behind bars.

After his release he met fellow gang members Harish Chander, 48, of West Bromwich, West Midlands, and Garry Gooda, 46, of Shefford, Bedfordshire, and had no idea police were monitoring him.

The gang recruited 61-year-old David Nash, of Redcliffe, Bristol, to manufacture the drugs.

But before he could start work, police arrested the gang on the M5 near Bristol and seized the cocaine.

Rogers, Chander, Gooda and Nash were all found guilty of conspiring to supply class A drugs.

Also convicted were Karl Thomas, 44, of Tredworth, Gloucester, Steven Williams, 58, of Brislington, Popinder Kandola, 55, of Walsall, West Midlands, and Wojciech Kolodziejczyk, 27, of West Bromwich.

Crystal methamphetamine is popular in America but fairly uncommon in the UK and Rogers saw a potential market in the South West. It is an amphetamine derivative, which is powerful and a highly addictive Class A drug.

Detective Inspector Jim Taylor, of Avon and Somerset Police, said: "The whole operation had striking similarities to the popular American crime drama series Breaking Bad, which featured a struggling high school chemistry teacher as the main character.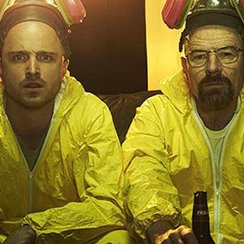 "He had been diagnosed with lung cancer and turned to a life of crime, producing and selling methamphetamine in order to secure his family's financial future before he died.

"Rogers was an elderly career criminal, reputedly with poor health, who was looking to set up a drugs empire in the South West, taking advantage of those with a drugs problem.

"His intention to introduce a new but highly addictive drug in the South West could have had a significant impact on our communities.

"In areas where methamphetamine is a problem, there is clear evidence of a rise in acquisitive crimes such as burglaries and robberies.

"These crimes affect people's quality of life and increase fear of personal safety.''

Mr Taylor added: "We are extremely pleased with the result at court which demonstrates that illegal activity - specifically production of drugs - will not be tolerated and will be dealt with robustly.

"We hope this will send out a strong message to others who have ideas of getting involved in drug activity.''