CCTV Issued After "Pole" Raid At Herts Garage
Police are releasing CCTV images as part of an investigation into a robbery at a petrol station in South Mimms.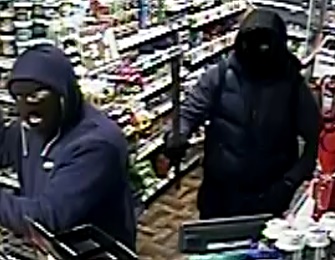 The incident occurred at Murco on St Albans Road on Monday, December 29 at around 9pm when three offenders, who had their faces covered, went into the shop. Two of them threatened a cashier with poles forcing the member of staff to open the till.
These two offenders managed to take money from the till whilst the third took money from a staff only area.
The member of staff, a 48 year old man, was not injured during the incident and there were no customers in the store.

The three then ran out of the back of the building down an alleyway into Brookside and then Hepburn Court. We are aware that the three may then have got lost in the housing estate for a short time before making off in a vehicle.

CCTV appeal following a robbery at a garage in South Mimms Detective Constable Laurence Harwood said:
"I would appeal to anyone who may be able to help in identifying the people shown to contact me. Whilst the faces of the suspects are covered, all three were wearing their tracksuit bottoms tucked into their socks and it could be that someone recognises their clothing or saw them before or after the incident."

Anyone with information is asked to contact DC Harwood via the Herts Police non-emergency number 101 quoting crime reference number J1/14/4184. Alternatively contact Crimestoppers anonymously on 0800 555 111.