Copper Chopper Response Times Vary Across East
30 November 2017, 15:01 | Updated: 30 November 2017, 15:08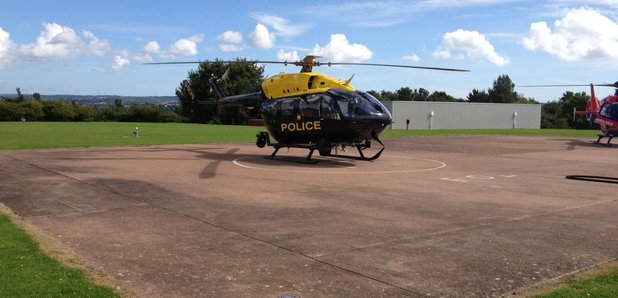 Police helicopters take so long to get to crime scenes thousands are called off mid-air because the incident has already finished, a watchdog has found.
More than 40% of call-outs last year were cancelled because the incident was over before air support had arrived, according to an independent probe.
In many areas it took more than half-an-hour for a helicopter to reach the scene.
Officers also suggested that an increase in police chases was due in part to criminals believing they did not have ready access to air support.
A report by Her Majesty's Inspectorate of Constabulary and Fire and Rescue Services discovered a number of flaws in the National Police Air Service (NPAS) and is calling for urgent reforms.
HM Inspector of Constabulary Matt Parr, who led the inspection, said:
"Savings have primarily been made by cutting the service provided to forces rather than increasing efficiency. An inconsistent service means that many incidents requiring air support are over before a before helicopter can arrive."
He also said there were "high levels of skill, dedication and commitment" among staff but "fundamental problems" with how the service was structured.
Long response times have contributed to a decline in forces using air support, especially in police chases, the report found.
One unnamed city force reported that the number of pursuits had more than tripled, from 100 in 2014 to 336 in 2016, due in part to a "criminal perception that the police no longer had ready access to helicopter support".
The report said: "Officers in some forces told us that most pursuits ended before an aircraft could arrive."
There were 57,562 calls in England and Wales last year, of which 24,873 were cancelled after the helicopter had been dispatched.
The report also found that:
:: The number of hours flown has dropped by 45% since 2009.
:: More than half of forces had to wait on average more than half-an-hour for a helicopter to arrive.
:: London had the quickest response time, with an average time of 10-and-a-half minutes for the Metropolitan Police, while for Cumbria Constabulary it was just over an hour.
:: The number of helicopters in the fleet has been reduced from 33 to 19 since 2009 and the number of bases has more than halved from 31 to 15.
:: Forces are charged according to the number of calls carried out each year, with an average cost of £1,314 per call-out.
East of England response times
:: Lincolnshire - 51 minutes, nine seconds
:: Cambridgeshire - 36 minutes, 42 seconds
:: Bedfordshire - 34 minutes
:: Hertfordshire - 32 minutes, 14 seconds
:: Northamptonshire - 26 minutes, 31 seconds
:: Thames Valley - 24 minutes, 16 seconds
:: British Transport Police - 23 minutes, 48 seconds