Could Europe Scrap Herts Built Mars Rover?
1 December 2016, 13:29 | Updated: 1 December 2016, 13:32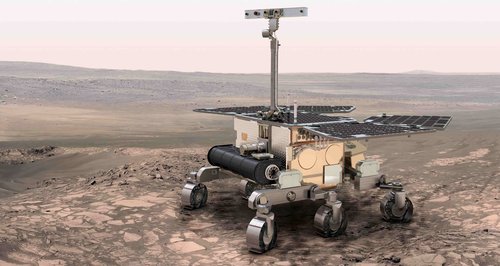 Euro space ministers are deciding the fate of the Stevenage built ExoMars Rover, an ambitious mission to search for life on the Red Planet in which the UK is playing a leading role.
The six-wheeled vehicle, equipped to drill under the Martian surface and detect biochemical traces of living organisms, is due to land on the planet in 2021.
But it is only likely to get there if the 22 European Space Agency (Esa) member states stump up a extra 400 million euros (£345m).
Without the funding there can be no guarantee the rover launch, the second stage of a two-part mission costing 1.3 billion euros (£1.09 billion), will go ahead.
Esa officials will be passing round the begging bowl at a ministerial council meeting in Lucerne, Switzerland, which is reviewing a wide range of programmes costing a total of 11 billion euros (£9.25 billion).
Another item on the agenda with special interest to the UK will be support for future manned missions to the International Space Station.
The UK will need to continue paying its way on the ISS if more British astronauts are to follow in the footsteps of Tim Peake.
ExoMars Rover has had a chequered history and come close to being abandoned on more than one occasion.
Originally it was to have been a joint enterprise with Nasa, but the American space agency pulled out and a new partnership was formed with Russia's agency, Roscosmos.
In May, the launch date was put back two years because of problems with delivering hardware.
A technical review has concluded that the mission is safe - if the extra funding can be secured.
ExoMars suffered a serious set back in October when the demonstrator lander Schiaparelli, designed to test the rover's landing system, crashed on the surface of Mars.
The Trace Gas Orbiter spacecraft which carried Schiaparelli to the planet is said to be functioning well. Next year it will start sniffing the Martian atmosphere for trace gases including methane, which may indicate the presence of life.
A drastic option would be to continue with the orbiter mission while scrapping the rover, developed at Airbus Space and Defence in Stevenage.
However in the run-up to the council meeting Dr David Parker, Esa's director of Human Spaceflight and Robotic Exploration, said member states had been expressing strong support for ExoMars Rover.
The council meeting is due to conclude on Friday.