Crew Taken Unwell From Luton Flight
29 May 2015, 11:16 | Updated: 29 May 2015, 12:13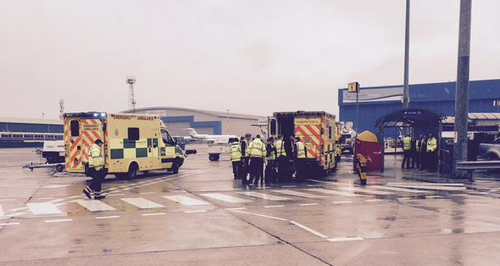 A Luton Easyjet plane heading to Tel Aviv's had to turn around after flight attendants started feeling unwell.
The EZY2083 flight had just reached Brussels when pilots made the announcement that they'd turned the plane around, because crew members were feeling unwell.
It was thought the four flight attendants were suffering from hypoxia, caused by low oxygen at the front of the cabin.
It arrived back in Luton at around 11 o'clock, and ambulance crews were waiting for them.
Melbourn HART team mobilised to Luton Airport for report of multiple persons unwell on a plane. MW pic.twitter.com/cOEJPiCsDr

— EEAST_HART (@EEAST_HART) May 29, 2015
Easyjet have told Heart:
"easyJet can confirm that flight EZY 2083 from Luton to Tel Aviv today has returned to Luton as a precautionary measure due to cabin crew members feeling unwell.
"The crew are currently being assessed by medical staff as a precautionary measure. The flight will be delayed overnight and passengers will be provided with overnight accommodation and meals.
"The safety and welfare of our passengers and crew is our highest priority. We would apologise for any inconvenience experienced by the delay."
A statement from the ambulance service says:
"The East of England Ambulance Service NHS Trust received a call to Luton Airport at just before 9am to a report of patients with suspected breathing problems on a plane.
"Three ambulance crews, an ambulance officer, two rapid response vehicles and Hazardous Area Response Team attended.
"Thankfully, none of the passengers and staff required treatment or transport to hospital."
Rosie from Watford was on the flight, she told Heart no passenger felt ill, and they're now waiting in the airport to hear what will happen with the flight.
She said the moment the announcement was made, was more confusing than scary.
@Heart4CNews I don't know much more than you. We've been taken off the plane. Some crew members taken away in ambulances.Awaiting an update.

— RΘSΙΙΞ (@rosiecresner) May 29, 2015
You can hear a full interview with Rosie HERE:


The replacement flight has now been delayed until 1 o'clock tomorrow.
And you can see exactly what the flight did - in this video. (via planefinder.net)
(Pic: credit East England Ambulance Service)