David Brickwood Murder - 1 Year On
26 September 2016, 00:00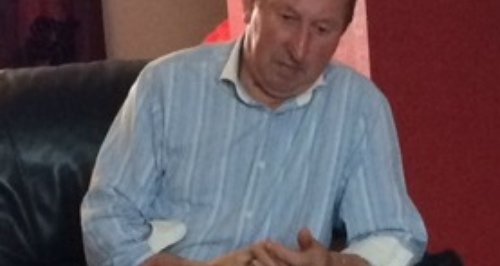 Police in Northamptonshire are using the 12 month anniversary of a brutal murder of a 74 year-old man in his own home as an opportunity to ask the public if they know anything.. ANYTHING AT ALL - that could help them solve the case.
David was found dead at his home in Lindsey Avenue, Abington, Northampton, on 26 September, 2015. He had been stabbed several times.
Sue Hawkes, a long standing friend recalls him as a "good man, well-loved and very badly missed". Mrs Hawkes who had been a friend and neighbour to David for more than 15 years, said she could remember the first time she met him:
"When we first moved in, he came in to see if he could help. Dave was a good friend, well loved. You still expect to see him out there with a cup of tea. All the cars that would go by, they would beep their horn and say 'hello Dave'."
Despite 12 months passing, Mrs Hawkes still thinks of Dave regularly:
"I often sit there and think you can hear Dave shouting out. I know it sounds silly. Quite often still get choked up about it. It should never have happened. He was such a well-liked man. He had grandchildren. I can only imagine how they're feeling. He is very badly missed."
Recalling the night she discovered David had been killed, she said:
"I felt really sick, imaging what he must have gone through, the last moments of his life. He didn't deserve this, his family didn't deserve this. They should be able to lay him to rest properly."
Her last memory of Dave was the day he was murdered: "It was the same day, we were just having a laugh. He had a lovely laugh. He was a very nice man. We were chatting out the front on the very same day."
Appealing to anyone with information, she urged: "I hope they have a little prang of conscience. Tell the police, because you've got to live with this the rest of your life."
He would do you a good turn, always friendly
Another neighbour, Mr Stuart Austin, who had lived on the same street for more than 45 years and knew David, remembers him as:
"An ordinary sort of bloke. He would do you a good turn, always friendly, just a good old boy. I used to speak to him on a regular basis, always ready to have a laugh and a joke. I would like to see someone bought to book for it. It's terrible that something like that can happen."
In the past 12 months investigators have worked to find those responsible for his murder however the suspects still remain at large.
Speaking about David, Detective Chief Inspector Louise Hemingway, leading the investigation, said:
"David was a 74 year-old gentleman who had lived in Lindsey Avenue for many years. He was widely known by the local community and a popular neighbour and friend to those living in the area. He was a hardworking man, running a business from his home. He was a man who would regularly help his neighbours.
David was attacked in his bedroom in the middle of the night and left alone and injured in his home. He managed to ring the police at 2.03am on Saturday, 26 September. Despite officers giving him first aid, David had been badly injured and sadly died.
It is now one year on and we are still searching for the people or person who killed David. No one has been charged with this brutal crime. The person or people who did this are walking free."
DCI Hemingway believes the attack was premeditated:
"I believe someone targeted David, they planned to rob him and were prepared to use violence on an elderly man to get what they wanted. This was planned, which means it will have been talked about before the murder and almost certainly afterwards, when the people who did this, realised they had killed David.
Two Ford Focus cars seen near David's house on the night of his murder have not been located. Someone will have seen them, or know who was driving these in the area at the time. Anyone with information about these cars should contact the investigation team."
DCI Hemingway, appealed directly to people's conscience, asking them to come forward with information:
"There are people who have crucial information about who murdered David and it is these people we are appealing to today.
David was defenceless in bed at his home when he was brutally attacked. His family are left with no answers and no justice. We know there are rumours and speculation locally. We know people have spoken to Crimestoppers, but we need the people who know what happened to David to contact us directly. If you have information that could assist the Police investigation, please speak with me or the investigation team. Help us get justice for David."
Six people have been arrested during the course of the investigaion, but no-one's been charged.