Drive To Clear Knives From Herts & Beds Streets
17 October 2016, 06:00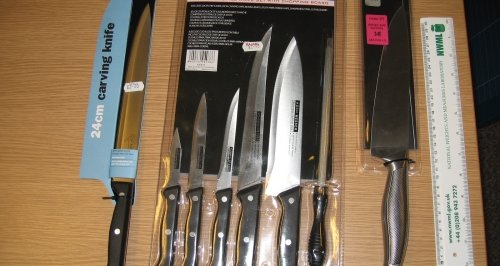 Herts & Beds Police taking part in the national drive to rid the UK's streets of knives.
Operation Sceptre will run between Monday October 17 and Sunday October 23, during which members of the public will be encouraged to surrender any unwanted knives in their possession to the police.

Hertfordshire remains one of the safest counties in the country and has little knife crime.
However, there has been a small increase in knife related crime in the county this year and the amnesty is being carried out in support of the national campaign and to highlight the dangers of carrying knives.
The amnesty also provides an opportunity to give crime prevention advice and raise awareness amongst local businesses that selling certain knives to anyone under 18 is illegal.

If you have a knife in your possession that you do not want or should not have, and would like to surrender it, you can bring it to one of the following police stations: Hatfield, Stevenage or Watford. During the amnesty you can surrender knives anonymously by placing them in the knife bins located with the station reception areas.
The locations and opening times of these stations can be found at www.herts.police.uk

Members of the public can surrender any knives, anonymously and without fear of prosecution for possession of these items.

Police and Crime Commissioner David Lloyd said:
"I'm delighted that we are playing our part in this national campaign to reduce the number of knives in the county, which will help to make Hertfordshire and neighbouring counties even safer. Fortunately, knife related incidents are uncommon in the county, but as part of the wider crime prevention and reduction campaigns we run in Hertfordshire, this can only contribute to making the county safer and continue to keep this type of crime low".
Bedfordshire
Over the next two weeks officers will be visiting schools across the county to deliver workshops on knife crime, and police will also be holding knife surrender. During the force's last surrender in February, more than 2,000 knives were handed in at bins across the county.
Crime Reduction Sergeant Ben Dimmock said:
"Our message is simple. If you choose to carry a knife, you're putting your own life at risk, and it's really not worth it.
We know that young people may be tempted to carry a knife, whether for status or protection, but by doing so they are making themselves much more vulnerable to harm.
So as part of Operation Sceptre we're encouraging young people to bin their blade, before it's too late."
As well as encouraging people to bin the blade, the force is also working to raise awareness of the consequences of knife crime, particularly amongst young people.
Sgt Dimmock added:
"All schools in Bedfordshire have received an educational input focusing on the dangers of knife crime, in the hope that it will discourage young people from being tempted to carry a weapon in the future.
We're also encouraging people in the community to speak out so that no-one else loses their life because of a blade."
To find your nearest knife bin, and for further information about knife crime, visit www.bedfordshire.police.uk"