Driver Jailed After Fatal Crash Into Luton Shop
1 October 2016, 11:08 | Updated: 1 October 2016, 11:26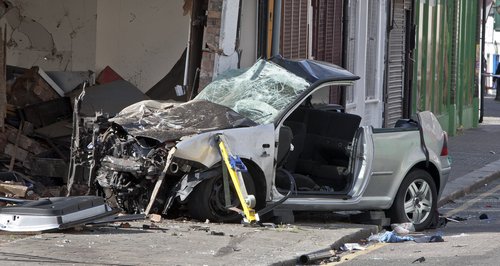 A young man who sped through residential streets of Luton up to 80mph before crashing his car that killed a teenage girl, has been jailed.
Wanessa Lewandowska, 15, was a back seat passenger in Michael Fludgate's VW Golf that reached 80mph in a 20mph zone before hitting the TV repair shop.
At Luton Crown Court on Friday (Sep 30th), Mr Fludgate pleaded guilty to causing death by dangerous driving, causing death while uninsured and causing death while unlicenced.
The 20 year-old, of no fixed address - was sentenced to eight years custody, banned from driving for four years after his release and will have to take an extended driving test.
Student Wanessa wanted to work with children, was pronounced dead at the scene in High Town Road, Luton, Beds, on Aug 9 this year.
Fludgate was seriously injured and airlifted to hospital and a 24 year-old man in the front ran off , but later went to police. He had also been seriously injured.
During the sentencing a seven minute dvd was played of Wanessa's life, from a baby to a stunning teenager, set to the song 'My Heart Must Go On'. The public gallery was packed with her family and friends who had asked for it to be played.
She had come to the UK from northern Poland 12 years ago and had been devastated by the death of her father four years ago, the court was told.
Sentencing Flugate, Judge Richard Foster told him:
"This was a piece of flagrant and obvious dangerous driving. To any common sensed bystander the outcome was perhaps almost inevitable - that there would be a serious accident.
You ignored the blue lights, and you disregarded your passengers screaming at you to slow down. Sadly Wanessa was killed. Nothing this court can say or do can bring back her life."
After the crash the Independent Police Complaints Commission set up an inquiry, which continues.
Peter Shaw prosecuting said a police officer who was alone in an unmarked car saw Fludgate driving the VW Golf.
"He formed the view that he was showing off or larking about, and decided he would pull over the vehicle and have words with the driver.
But he never got the chance. The Golf was accelerating and he put on the blue lights that were behind the radiator grill and on the wing mirrors.
The Golf accelerated harshly. The police driver, who was trained for such pursuits, contacted force control to say a vehicle had failed to stop."
The prosecutor said at one point the Golf did a hand brake turn and slewed side ways, but recorrected itself and drove off again, reaching speeds up to 80 mph in 30 and 20 mph zones.
But when the officer saw a huge number of sparks come from under the car as it went over a speed bump, he decided it was too risky to continue to try and stop him. But he kept him in view and seconds later the car crashed.
Nicola Shannon, defending, said Fludgate had pleaded guilty to all charges at the first opportunity.
"He does not minimise the part he played. But this was just a few minutes in his life when he failed to make the correct judgement. He is not someone who has previous driving offences, he is not a boy racer."
She said the offence occurred just a month after his father, with whom he had lived, died, and he was made homeless.