Driverless cars - what do you think?
18 October 2016, 05:00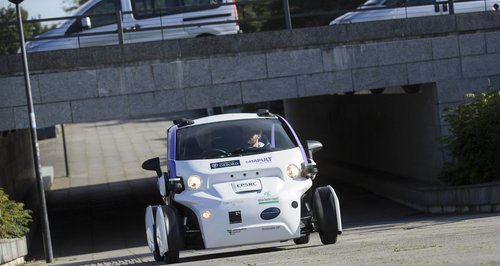 Following the launch of the driverless Pod trials in Milton Keynes on Tues 11th Oct, members of the public are now being asked what they think of self-driving vehicles as part of a series of surveys being conducted on behalf of the UK Autodrive programme.
The surveys have been designed by experts from Cambridge University, and are intended to track any changes in public attitude towards autonomous vehicles during the remaining two years of the UK Autodrive project.
As well as assessing people's attitudes towards self-driving vehicles, the survey will also ask what they think of their current travel experiences, as well as examine their travel preferences.
Dr Kai Ruggeri, Director of the Cambridge University Policy Research Group, said:
"UK Autodrive is primarily about trialling connected and autonomous vehicles in Milton Keynes and Coventry, but it's also about seeing what the public think of this new technology. There has been lots of talk about the potential benefits of self-driving vehicles, but also plenty of concerns expressed - so these surveys will help us measure public sentiment, and how it's changing."
Cllr Liz Gifford, Cabinet Member for Transport said:
"Autonomous vehicles are a fascinating new branch of transport technology which opens up many possibilities for the near future but also many questions"
This is a chance for you to put your views and opinions to those who are working in this industry and to find out more about what these driverless vehicles will mean for you and future generations".
The confidential survey comprises 48 questions and takes roughly 12 minutes to complete. Anyone wishing to take part in the survey can do so by clicking on THIS LINK