Emaciated Dog Found Near Kettering
21 January 2017, 10:18 | Updated: 21 January 2017, 10:22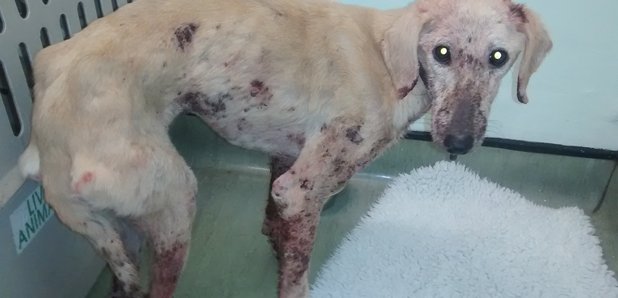 The RSPCA say a lurcher dog was so hungry she was emaciated with a severe skin condition after being dumped in a village near Kettering.
The female lurcher was struggling to walk when she was found in Church Street, in Broughton last Friday.
She was picked up by the RSPCA and taken to a vets, where staff nicknamed her Honey.
RSPCA Animal Collection Officer Greg Hagen said:
"The poor dog was not in a good way at all. She staggered towards my van and I had to help her by picking her up.
Her legs are completely covered in this horrific skin condition and on top of that she is incredibly thin - all of her bones were visible. She had blood around her back end, legs and on her ears when she was found. She really was in a sorry state.
We can't put an exact age to her as her teeth - which usually give a good indicator to a dog's age - were in a terrible state. What we would say is that she is an adult and probably no older than five years old.
We are really keen to find out where she came from and how she got to be like this. If you take on a pet, you must take responsibility and if your pet needs veterinary attention then you must seek it - something which clearly did not happen for Honey. Thankfully she was found before it was too late and we are hopeful that she will make a full recovery.
She was getting a lot of fuss from staff at the vets. She is a lovely dog and she deserves to get a lot of love and attention after her horrific start to life."
Honey is now being looked after by an RSPCA foster carer.
Anyone who has any information about Honey should contact the RSPCA in complete confidence on 0300 123 8018.
The RSPCA is a charity and we rely on public donations to exist. To assist our inspectors in carrying out their vital work please text HELP to 78866 to give £3.