Final Farewell For Beds Top Cop
6 July 2017, 17:23 | Updated: 6 July 2017, 17:28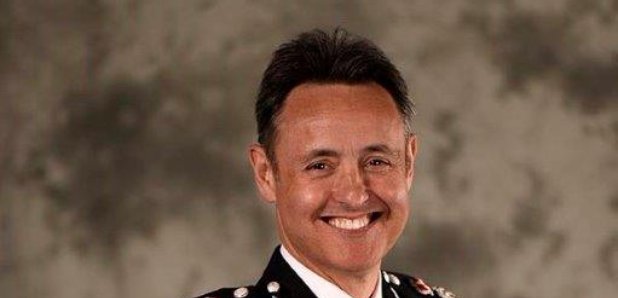 A guard of honour and a salute by chief officers have taken place to mark the funeral of former Bedfordshire Chief Constable Alf Hitchcock.
Hundreds turned out to pay their respects to the 58 year-old who died following a short illness on 16 June.
Alf was Bedfordshire Chief Constable between 2011-13 and was serving as Chief Constable of the Ministry of Defence Police (MDP) when he died.
Mr Hitchcock was also made a CBE for his services to policing.
The funeral cortege was given a police motorcycle escort made up of officers from the four forces he served - Bedfordshire, the Met, Lancashire and MDP.
A guard of honour was formed outside St Paul's Church in Bedford while current Chief Constable Jon Boutcher took a salute.
Following the service, which was attended by around 300 mourners, the funeral cortege made its way to Bedfordshire Police HQ, in Kempston, where officers and staff paid tribute to their former chief constable.
DCC Colbourne said:
"The sheer number of people who turned out for today's events, and the flow of tributes which have been paid since his untimely death, is testament to how highly regarded Alf was by the policing family and indeed the wider communities he served.
He built tremendously strong relationships when he was with Bedfordshire and will always hold a special place in our hearts. We are proud to have called him our chief constable and I cannot speak highly enough of him as a man; it is incredibly heart-breaking to lose him at such a young age but his legacy will live on with the force. While nothing can stop the sadness we all feel at this time, I hope the show of respect and affection we have seen today will be of some comfort to his family and friends."
Mr Hitchcock began his policing career with Lancashire Constabulary in 1977. He later joined the Metropolitan Police Service where he served as commander for specialist operations, progressing to deputy assistant commissioner and acting assistant commissioner.
He left the force in 2009 to become deputy chief constable at the National College of Police Leadership, before joining Bedfordshire Police as chief constable in 2011.