First UK Built East Coast New Inter City Unveiled
9 December 2016, 17:18 | Updated: 9 December 2016, 17:24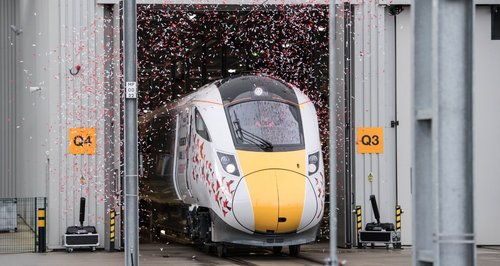 The first UK-built Intercity Express (IEP) train has rolled off the production line.
The first models of the IEP are on trials currently on the East Coast Line via Stevenage and Peterborough; Virgin have branded them Azumas.
Hitachi showcased the new British-built edition of the trains, at its factory in County Durham. It is one of 122 express trains, part of the Government-funded £5.7 billion IEP programme designed to boost capacity, reliability and comfort for passengers. They are due to begin operating on the East Coast Line from 2018 and on the Great Western main line from next summer.
All the trains are set to be in service by 2020.
The first Class 800 train was built at Hitachi's Kasado works in Japan, but the majority of the 866-carriage fleet will be manufactured in the UK.
A total of 110 IEP trains will be built in Newton Aycliffe, County Durham.
They are capable of running at 140mph, although will be limited to 125mph unless rail tracks are upgraded.
Transport Secretary Chris Grayling said:
"This first train to roll out of Hitachi's new factory in Newton Aycliffe shows we are open for business and will provide a real economic boost to the North East, not only by providing jobs but also by investing in the skills needed to provide the transport network our country needs for the future.
These new trains will give passengers more seats, greater comfort, better reliability and faster, more frequent services.''
Karen Boswell, managing director of Hitachi Rail Europe, commented:
"Today is a celebration of the return of train manufacturing to the North East, supporting thousands of jobs and developing a strong engineering skills base in the region.
Trains running across the country's rail network will be built by a proud workforce harnessing the best of Hitachi's long standing rail expertise."