Flooding In Hemel From Burst Water Main
4 June 2015, 14:10 | Updated: 4 June 2015, 14:17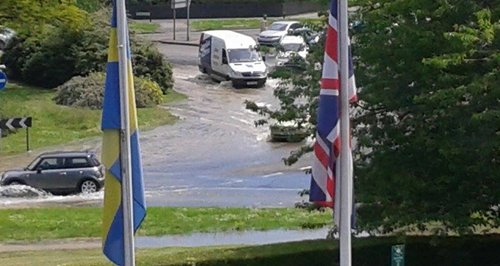 There was disruption earlier for traffic in Hemel Hempstead after flooding caused by a burst water main.
Motorists had battled highwater levels on A4147 Maylands Avenue at the Eastman Way/Swallowdale Lane roundabout after it's reported some workmen hit the water main, causing it to burst, flooding the roundabout.
The picture from Emily Giddins showed the extent of how bad it got.
1335hrs: Hertfordshire Police have lifted earlier road closures but nearby businesses could still be affected by low water pressure and have been told not to use any electrical items which are plumbed in until the all clear's given by Affinity Water.
An Affinity Water spokesperson said: "We would like to apologise for any inconvenience caused by a burst on a 15 inch water main at Swallowdale Lane in Hemel Hempstead.
Our technicians began work yesterday to repair a leak on the main and during the course of removing a redundant gas pipe, which was blocking the repair, the existing split expanded.
Our team are currently on site to repair the damaged water main and we would like to thank our customers for their patience whilst we carry out this repair."