Puppy Love! Follow Herts & Beds Police's Latest Recruit On Twitter
26 July 2015, 06:00
Puppy fans can now follow the progress of one of Bedfordshire, Cambridgeshire and Hertfordshire (BCH) Dog Unit's newest recruits on Twitter.
A police officer who's fostering Blade, the nine-week-old German Shepherd will be sharing his exploits and experiences on the unit's Twitter account (@dogpoliceBCH).

The pup will be living with the officer for around 12-18 months. During this time, the officer will be taking the dog to as many different environments as possible to ensure he will be in the best possible position to begin a career as a police dog.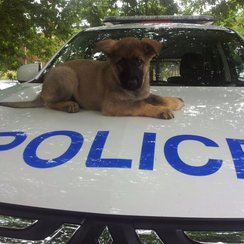 Part of this process includes finding out how the dog reacts to certain situations and potential obstacles, such as open staircases and reflective surfaces. There is also a large focus on getting the dog to socialise and encouraging the pup the play is also high on the agenda.

Throughout the foster period the officer will be regularly sharing photos and updates about how he and the puppy are getting on and what they've been up to.

Videos and pictures have already been posted, over the last few days!

The public are advised to stay tuned to the Twitter account to ensure they get their regular fix of adorable photos that are guaranteed to make people say 'aww!'