Funding For Hert's Nascot Lawn Axed...Again
11 May 2018, 13:59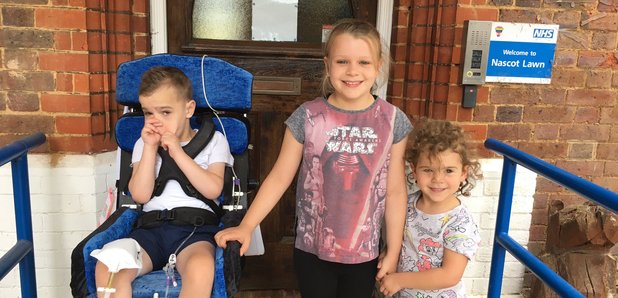 "Families who rely on Nascot Lawn are devastated to hear that Herts Valley CCG have voted to close the centre."
Bosses who manage the local NHS trust in Hertfordshire have voted to stop funding a life-line respite centre in the county, Nascot Lawn.
Just a few months ago, families of those who use the service (in Langley Road, Watford) were celebrating after a High Court judge ruled plans to withdraw funding for the centre was unlawful.
Amanda Batten, Chair of the Disabled Children's Partnership and CEO of Contact, says:
"Families who rely on Nascot Lawn are devastated to hear that Herts Valley CCG have voted to close the centre. This is despite the High Court ruling in January that made it clear that the CCG's decision to withdraw funding to the centre was unlawful and that the CCG and Local Authority must work together to continue providing this type of health service to disabled children and their families in the area.
"Families that use centres like Nascot Lawn describe them as being nothing short of a lifeline. They save the state tens of millions of pounds by supporting parents to look after their disabled children and they give disabled children opportunities that their peers take for granted. The CCG's decision today means the parents who have fought long and hard to keep Nascot Lawn open will be left reeling and fearful for their families' future.
"The CCG and council squabbled for many months over who should fund the vital service Nascot Lawn provides for some of the most sick and disabled children and their families in the area. Sadly, what's happened in Herts isn't an isolated case and across the country families are facing similar battles and endless stress and worry.
"We look forward to hearing Herts County Council's response and call on them to act decisively and refer this situation to the Secretary of State for Health as a matter of urgency. Herts CCG's decision must not open the door for other CCGs to take similar action."
Satnam Kaur is mum to 14 year old Gurpreet. Gurpreet has complex medical needs and an extremely rare chromosome disorder. She has attended the Nascot Lawn respite centre for the last 13 years.
"I'm disappointed and devastated. We're left in a position with no care. I can't cope without respite. I'm a single mum with two other children- one preparing for SAT's and one preparing for 11+. I feel like the entire system has let us down. It's our worst nightmare come true. Are they waiting for Carers to breakdown now? Our children will end up in care then".
Dr Nicolas Small, chair of Herts Valleys CCG, said:
"We continue to see the needs of this group of children as absolutely central and working together closely - with families and partners at Hertfordshire County Council - is our top priority as we move towards new care arrangements. I know that Kathryn Magson, our chief executive, together with other members of the team, were pleased to have been able to speak directly with a number of parents who had stayed behind after our meeting.
"We will now redouble our efforts with our county council colleagues to progress the transition arrangements and will formalise the agreement with our partners - to contribute the £100k per year towards supporting children and families who need respite care. "